13 slow cooker Thanksgiving recipes so you can set it, forget it and work on other dishes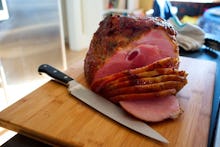 The key to cooking a successful Thanksgiving feast? A slow cooker. 
While your oven and stovetop are probably crowded with holiday meats and sides, you can make pretty much every component of the meal — from the entrees to the desserts—  in a crockpot. Get creative with counter space and plug in your crockpot outside of the kitchen to save room and fill even more of your home with delicious Thanksgiving food scents. Here's what you'll want to make in your slow cooker this Thanksgiving. 
1. Crockpot three cheese mashed potatoes
These aren't your average crockpot potatoes. Rich, creamy and decadent AF, you'll forget about putting anything else on your plate once you get a scoop of these. Get the recipe here.
2. Slow cooker balsamic brussels sprouts
Getting the timing right with brussels sprouts can be tricky, so just forget about them all together and let your slow cooker do its thing. Get the recipe here.
3. Chipotle black bean chili 
Get a chili stewing early in the morning and welcome your guests with a warm mug right out of the crock pot when they arrive. Get the recipe here. 
4. Quick crockpot fondue
Skip the cheese plate prep and let your guests dip into crockpot fondue. A new Thanksgiving tradition! Get the recipe here.
5. Creamy garlic mac and cheese
Mac and cheese should be essential to any and all Thanskgiving meals. This crockpot version is super easy to make and as creamy as it is easy! Get the recipe here.
6. Farmhouse ham with a honey, fennel and mustard glaze
If you're more of a holiday ham cook, or want to supplement your turkey, make this crockpot (yes crockpot!) ham. Your oven just became so obscure. Get the recipe here.
7. Slow cooker pumpkin puree
Recycle that Halloween pumpkin you never carved and make the most epic pumpkin pie of all time with homemade pumpkin puree, that's almost as easy to slow cook as opening a can of pumpkin. Get the recipe here.
8. Slow cooker blissful butternut squash soup
Forget about dealing with a squash in the oven and let it soup itself in this vegan recipe that uses coconut milk for creaminess. Get the recipe here.
9. Crockpot cranberry apple stuffing
Your stuffing is getting the crockpot treatment this year! For stuffing that's sweet, savory, soft and crunchy, use your crockpot and this recipe and you may never go back to Stovetop. Get the recipe here.
10. Slow cooked cider wassail 
Welcome guests with a warm cocktail (also convenient to have in the kitchen for when you're cooking), straight out of the crockpot. Get the recipe here.
11. Slow cooker pumpkin pecan bread pudding
Save time by cubing bread for stuffing and dessert and make this decadent slow cooker bread pudding. Get the recipe here.
12. Granola baked apples
Just a few minutes of prep and a couple hours of slow cooking gets you this hands-off dessert that's actually passible as healthy. Get the recipe here.
13. Slow cooker sweet potato casserole 
Brown sugar and bourbon add a serious flavor boost to this sweet potato dish. A pecan topping also adds extra crunch that makes this casserole exciting with every bite and not just some pile of sweet mush. Get the recipe here.