'Pokémon Go' Thanksgiving event: Festive update and bonuses rumored for late November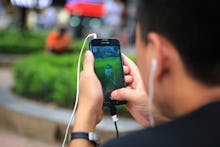 Pokémon Go's Halloween event has come and gone, so what's next for Niantic's monster mobile hit? A new report claims the company is planning a similar Thanksgiving event for later this month.
Rumors of a Pokémon Go Thanksgiving event come from SlashGear. The report cites the same anonymous sources that leaked the Halloween event, but details are still pretty scarce.
Pokémon Go Thanksgiving event: Everything we know so far
The upcoming Thanksgiving event could follow a similar formula to Pokémon Go's Halloween celebration. But instead of increasing the spawn rates for spooky Pokémon, we could see Spearow and its evolved form, Fearow (which kind of looks like a turkey), pop up more frequently. Spearow isn't exactly rare, though, and if you've played the game at all, you probably already have a Fearow in your Pokédex.
Other creatures allegedly being considered for the event include Psyduck, Golduck, Slowpoke, Slowbro, Ponyta and Rapidash. However, SlashGear notes that the final details are still being discussed at Niantic and that list could change.
The event will also allegedly lower Pokémon Go's Buddy walking distance requirements again like it did for Halloween. That could be a good way to encourage players to walk off the extra serving of pumpkin pie they scarfed down during Thanksgiving dinner.
Pokémon Go Thanksgiving event: A festive release date?
It's unclear exactly when the Pokémon Go Thanksgiving event will start or stop. We wouldn't be surprised if Niantic kicked off the celebration on Thanksgiving day (Thursday, Nov. 24) and let it run through the weekend, but that's just a guess.
Assuming this rumored Pokémon Go event is really happening, we should learn more pretty soon. After all, Thanksgiving is just a few weeks away.