5 less miserable ways we could've used the $1B of campaign spending from the 2016 election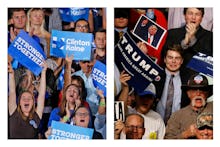 There are pros and cons to the United States' obscenely long election cycle. On one hand, it arguably makes our political system more democratic by giving relatively unknown politicians like Vermont Sen. Bernie Sanders a fairer shot at earning the nomination.
But on the flip side, campaign ads, consultants and voter outreach don't come cheap — and the 2016 presidential election is on track to be the costliest on record by the time it finally ends. 
In fact, a recent data analysis in Forbes found that combined spending of campaign funds by all the presidential candidates was more than $1 billion in the 2016 race. And that data only accounts for up to Oct. 27.
Here are five hypothetical ways we could have spent that huge sum of money instead — which would all be way more fun than sitting through campaign ads. 
Buy the Phoenix Suns 
The amount raised by presidential candidates in this cycle would be just enough to buy the Phoenix Suns franchise, which is valued at $1 billion, according to Forbes.
Cover a year of GDP for the island of Grenada
Countries are a little different from basketball teams, but imagine for a second that you could buy a yearlong vacation for an entire economy. ("Just take the next 12 months off, guys!") The total gross domestic product of Grenada is about $1.03 billion.
Incidentally, if you are looking for a place to flee post-election, Grenada is quite easy on the eyes:
Purchase three dope yachts — and a staff of 50 to sail them
According to insurance figures, a 100-meter-long yacht with a staff of 50 would set you back $275 million on average.
That leaves more than a little extra cash for some nice boat shoes.
Lock down a private Elton John concert every day for three years 
According to a Business Insider investigation, Elton John commands a literal fortune for a live performance: between $1 million and $1.5 million. 
You'd need to reach out to John directly to get a more specific rate — maybe there's a discount if you buy in bulk? But $1 billion would be enough to book 1,000 performances.
That's more than one performance every day for three years. 
Give every kindergarten teacher a $667 bonus
Yes, yes — dropping $1 billion on yachts and Elton John concerts is not actually better than spending on democracy.
But what about education?
There are about 1.5 million kindergarten teachers in the United States, according to the Bureau of Labor Statistics. If you divided the $1 billion amongst them evenly, each teacher would get a little more than $667.
That would cover a little over the average $500 public school teachers spend out of their own pockets each year for school supplies. Sigh.
Puts things in perspective, right? Remember: Canadian elections are over in a matter of weeks. And in the U.K., election spending is capped at $30 million for each party.
That's just one reason why there's a strong movement in the United States to get money out of politics — so we can put our dollars to better use elsewhere.