A look back at Hillary Clinton's triumphant year in fashion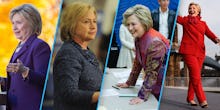 In less than 24 hours, Hillary Clinton could make history as the first woman to be elected President of the United States. 
She has worked for a long time for this, being the first lady of Arkansas, then the first lady of the United States, then a senator and then the secretary of state. She has been on the campaign trail countless times through the '90s up until midnight tonight and so, of course, her style has evolved.
When she was first lady of Arkansas, for example, she leaned into the late-'70s and '80s aesthetic, favoring shoulder pads and massive glasses. When she was FLOTUS, she wore headbands and feathered bangs. 
Throughout her own political career, from senator to secretary to presidential nominee, she has always loved a neat pantsuit, but there has been a slow evolution. Within the past year, things have gotten more refined and, specifically since January, her style has undergone a modern overhaul. 
Although she announced her candidacy more over a year ago (on April 12, 2015), Mic is looking back at the past year in particular to see how Clinton's style has evolved while on the campaign trail. 
November 9, 2015 
One year ago today, this was Hillary Clinton in New Hampshire campaigning for her primary fight against Bernie Sanders and Martin O'Malley. Her hair is looser than it will become over the course of the year and more of a shag. She is in prime pantsuit form, with a short purple jacket that matched her shirt, jewelry and pants. 
November 14, 2015 
A few days later, for a debate, Clinton came dressed conservatively yet again, in a black suit and a strand of white pearls. She clearly wasn't trying to get attention for her style or appearance (not that she should be expected to). 
November 17, 2015 
She once loved tweed. 
December 11, 2015 
And she once loved matching her jewelry precisely to her outfit. 
December 19, 2015 
January 10, 2016 
But come January, as confidence in her bid rose, Clinton's look shifted dramatically. Suddenly, her hair was more swooped back. There was little to no tweed. The necklaces became more streamlined, or actually nonexistent.
January 24, 2015 
She cared more for modern silhouettes, and very bright colors, like this red number in Iowa. 
February 20, 2016 
February 27, 2016 
Come February, she started to feel more confident in taking sartorial risks, going with this tweed jacket (that looks an awful lot like Chanel) in South Carolina. 
March 8, 2016 
March 30, 2016 
In March in New York City, she whipped out a black leather trench. 
April 9, 2016 
And as the primaries came to a close, and Clinton's chances of becoming the Democratic nominee increased, there was a burst of color. 
April 19, 2016 
On the day of the New York primary, she showed up in a literal technicolor dream coat. 
May 25, 2016 
June 21, 2016 
There was polka dots! Lace! 
July 5, 2016 
By June, she was throwing on hot pink on a regular basis. 
August 25, 2016 
And teal as well. 
September 8, 2016 
October 31, 2016 
And red too. 
In the days before the election, Clinton seemed to be even more drawn to bolder, consistently patriotic colors, like aqua and red, pairing a patterned scarf with a long red coat the day before the election too. 
November 6, 2016 
November 7, 2016 
Her look was equal parts bold and polished. 
November 8, 2016 
And on Election Day, as she cast her vote for president in Chappaqua, New York, Clinton showed up with her husband in a light brown pantsuit, complete with a leather brown jacket. This is apparently the first time Clinton has worn leather on the campaign trail since she was in New York City for the primary, which she won by a landslide.
From one year ago from today, Clinton's attire has gotten more daring, polished and confident, with the former secretary of state finding a style groove all her own. 
Now all we have to do is wait to see what she wears on election night, when she could very well make history.