'Gilmore Girls' Episode Guide: The most important episodes to watch before Netflix revival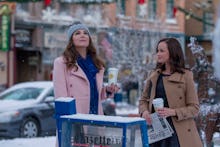 In its original run on the WB (and the CW for its last season), Gilmore Girls ran for seven seasons, each including 20-plus episodes. That is a lot of Gilmore Girls! It's particularly a lot if you haven't watched but you want to catch up before the Netflix revival Gilmore Girls: A Year in the Life hits the streaming service.
What is a would-be Gilmore Girls fan to do if they want to relive the magic but can't commit the next two weeks of their lives to doing it? We've got a solution for you to catch up with mom Lorelai Gilmore, daughter Rory and their band of pals in the Connecticut town of Stars Hollow.
We've reduced the 153-episode series to just 44 episodes — basically two seasons of TV. That's nothing! That's one weekend of binging, plus a few weeknights. It's easily doable before Nov. 25.
Here's our breakdown of which episodes to watch and why.
Season one
Start with the pilot, because it sets up the series' core relationships well: Lorelai and Rory, their friends Sookie, Luke, Lane and Michel, etc. Then skip to "Rory's Dance" and "Forgiveness and Stuff," which work as a two-parter. Those nicely set up Dean as Rory's new boyfriend, as well as further establish the dynamic between Lorelai and her parents, Emily and Richard.
Then skip to "Christopher Returns," which introduces Rory's father, Christopher. You can actually skip the rest of this season and the beginning of the next — it's mostly about Lorelai's relationship with Max Medina, a character who isn't returning for the revival. Plus, Rory and Dean break up, but they quickly get back together.
Season two
After skipping the first few episodes of the new season, pick up with "Nick & Nora/Sid & Nancy," which introduces vital new character Jess. Then jump to "The Ins and Outs of Inns," which introduces a major story that picks up in season four. "Richard in Stars Hollow" isn't a deeply necessary episode, but considering Richard's memory is going to play into a lot of A Year in the Life after actor Edward Herrmann's death, it's good to get to know him more.
"It Should've Been Lorelai" comes next, giving more context to Christopher and Lorelai's relationship. Follow up with a triple play: "Teach Me Tonight," "Help Wanted" and "I Can't Get Started." It's a tall order to watch three in a row, but there's a continuous story that involves Rory, Jess, Luke and Lorelai that threads these episodes together. (Skip "Lorelai's Graduation Day," which is a sweet but ultimately frustrating installment.)
Season three
Watching the premiere, "Those Lazy-Hazy-Crazy Days," is necessary, as it sets the table for the rest of the season. Then skip to "They Shoot Gilmores, Don't They?" — which changes the landscape of the series pretty dramatically — followed by flashback episode "Dear Emily and Richard." That one is particularly important: It serves as Lorelai Gilmore's origin story.
"The Big One" and "Keg! Max!" aren't a two-parter, but they do work well together. Unfortunately, they both involve Max Medina, but Rory's stories are vital. Wrap it up with the finale, "Those Are Strings, Pinocchio," in which Rory graduates and the two Gilmore girls decide their future.
Season four
The premiere is a fun but kind of pointless installment, so skip to "The Lorelais' First Day at Yale" instead. (The title is both a spoiler and very indicative of the episode itself.) We skipped a couple of important Dean episodes in season three, so watch "Chicken or Beef?" to get caught up on what's happening with him.
Now, the rest of the season is pretty vital, so bear with us. Start with "A Family Matter" and "Nag Hammadi Is Where They Found the Gnostic Gospels," which bring back Jess for a two-episode arc. Then jump to "Luke Can See Her Face" and "Last Week Fights, This Week Tights" — again, Jess episodes, but they also have major Lorelai developments.
The season four finale, "Raincoats and Recipes," is indeed required viewing, but we'd recommend watching it at the same time as the season five premiere.
Season five
Pair the season four finale with "Say Goodbye to Daisy Miller" and "A Messenger, Nothing More." Those three episodes feature perhaps the most significant change to Lorelai and Rory's relationship, one the show never really reverts. They also include Lorelai opening a new business and starting a new potential relationship, a change in Richard and Emily's dynamic and more.
"You Jump, I Jump, Jack" and "The Party's Over" serve as a two-part exit for Rory's love interest and an introduction to Logan, Rory's third and final boyfriend. "Come Home" and "Wedding Bell Blues" make for a good Emily- and Richard-heavy night of Gilmore. "So... Good Talk" resolves the Lorelai story that starts in "Wedding Bell Blues," so watch that quickly too.
"But I'm a Gilmore!" is a good standalone to check in on Rory's progress as a character. It's needed for our final two episodes of the season, "Blame Booze and Melville" and "A House Is Not a Home."
Season six
The first half of season six is deeply unpleasant to watch. It's still Gilmore Girls, so it's still good, but the Lorelai-Rory dynamic is never worse than in these installments. Watch "New and Improved Lorelai," then "We've Got Magic To Do." Then jump to a double feature of "Let Me Hear Your Balalaikas Ringing Out" and "The Prodigal Daughter Returns" to put the difficult plot to bed.
To avoid spoiling you, we'll just say of the rest of the season that "Friday Night's Alright for Fighting" is one of the best episodes of the series, and a crucial one. "You've Been Gilmored" is a good episode to pair it with, if you're in the mood for two. Jump then to "Driving Miss Gilmore," following it up with the season finale, "Partings."
Season seven
Season seven was not written or produced by series creator Amy Sherman-Palladino, so take it with a grain of salt. She's returning for A Year in the Life and has never watched this season in full. It's likely to impact the new season very little.
Jump ahead to "To Whom It May Concern." You'll be very confused by some stuff happening, but look up recaps online instead. We're down to the last few episodes here, and we need to make up time. "I'd Rather Be in Philadelphia" is the last plot-vital episode of the series, featuring one relationship dissolving and another major development for Richard.
Wrap it up with the series finale, "Bon Voyage" — and then bask in the glory of your triumph. Now, all there is to do is wait for A Year in the Life.