Adidas' new sneaker is made from ocean waste — take that, Marjory the Trash Heap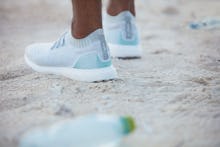 A sneaker fashioned from 11 plastic bottles doesn't exactly sound comfortable, let alone something you'd want to walk around in. 
But thanks to adidas' latest collaboration with Parley for the Oceans, an ocean conservation organization, there's a new limited-edition sneaker made from from a combination of ocean waste and recycled materials that's both environmentally conscious and unexpectedly stylish. 
Introducing the UltraBoost Uncaged Parley:
"The UltraBoost Uncaged Parley is more than a shoe. It's a flag for the Oceans' cause and an invitation to join it," Parley for the Oceans founder Cyrill Gutsch said in an interview. 
"We are at war with the oceans," he continued. "If we win this battle, we lose everything. We cannot live on this planet with a dead ocean. Major brands have not only the reach and influence to carry this message to a global platform, but also the means to demonstrate that protecting the planet is good business."
It's not the first time adidas and Parley have partnered — but it is the first time the result is something available to consumers. In December, the brands joined forces to showcase a 3-D printed ocean plastic shoe midsole in an attempt to "demonstrate how the industry can rethink design and help stop ocean plastic pollution," a press release said at the time.
"We have not only managed to make footwear from recycled ocean plastic, but have also created the first soccer jersey coming 100% out of the ocean," adidas Group's Eric Liedtke, the executive board member responsible for global brands, said in a statement to Mic. The jersey is fabricated with marine plastic waste recovered via clean-up operations in coastal areas of the Maldives.
"But we won't stop there," he continued. "We will make 1 million pairs of shoes using Parley ocean plastic in 2017 — and our ultimate ambition is to eliminate virgin plastic from our supply chain."
How does adidas plan to do that? By making it appealing to use recycled materials through collaborations such as this one. Adidas has shown its commitment to the cause is not just a one-off: The company plans to completely replace virgin polyester used in its products with Parley Ocean Plastic, an eco-innovative alternative to plastic that it says we'll hear more about in the near future.
In addition to the adidas collab, Parley last week announced a collaboration with artist Doug Aitken called Underwater Pavilions, a large-scale art installation off the coast of Catalina Island involving three underwater sculptures.
With wearable technology's time as fashion's buzziest term ending, perhaps fashion can turn its attention to trash, specifically the recycling of it. 
For more details on the UltraBoost check out Adidas' website.