Trump supporters are scheming on 4chan to flood Twitter with fake voting memes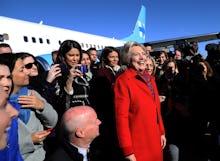 Trolls are playing a nasty game of voter suppression on social media. Trump supporters on 4chan have been galvanizing to flood the platform with memes intended to dupe Clinton supporters into voting via text or social media like Facebook and Twitter. (To be clear, you can't.) 
Twitter has been informed of the false advertisements, which aren't allowed on the platform — but the hoaxes have continued to pop up. Is Twitter prepared to handle the influx of misinformation during what are arguably the most critical hours ahead of the election? 
"Get in here, faggots, and rev up those Twitter accounts — we've got work to do," a 4chan user posted Monday morning. "Suggest to the normies that they may vote online using presidential hashtags on Twitter! We must do everything we can do. Distract those who are gullible enough to believe they may vote online in social medias."
The user makes the forum's mission clear: They intend to trick Clinton voters into believing online voting is easy and valid. 
"Be subtle and oblivious, and tweet things like, 'Wow I can't believe I could save time and a trip to the polls by just tweeting!' or some shit," the post reads. "If we can get one or two to not go to the polls, it'll be worth it."
The thread features a number of homemade memes that trolls can use on Twitter and Facebook. One alleges that it was sponsored by Microsoft, while another goes as far as to craft a fake CNN report with the fake voter info.
"We need more weaponized memes — spread this shit around, faggots!" a user posted on the thread, publicizing another hoax image.
"Bump this shit," another wrote.
"GO GO GO," wrote another.
"We can make this more convincing if we include that your account HAS to be verified in order for the vote to count," another chimes in.
One user pointed out that vote manipulation like this is, in fact, illegal:
While many of the memes in here are funny and thought provoking, as a U.S. attorney I must warn you that knowingly deceiving people into thinking they voted, when they have not, is illegal and can have unintended consequences if the affected candidate loses. Anyone who spreads these memes is violating established election law and does so at their own risk. Make your points, many are extremely good ones, but do not attempt to affect voter outcomes through deception. The above is only my opinion but please take it seriously.
When Mic asked Twitter how it plans to handle this rush of false voting information spreading on its platform, a spokesperson pointed to the video the company tweeted out "several times over the past week" that highlights a tool to help users find information they need to vote.
"Our goal is to increase engagement in the election process and encourage voter turnout," a Twitter representative said. "We are tweeting now and through Election Day, informing people how and where they can vote. We've launched several features recently to support this cause, including our DM tool that shares specific voting locations, candidate information and other relevant info to inform voters as they head to the polls."
As it stands, however, Twitter is going head-to-head with a fervent army of trolls who plan to relentlessly flood its platform with false information. It remains to be seen if Twitter can effectively combat these tweets. As BuzzFeed's Charlie Warzel pointed out, Twitter has successfully taken down some of the tweets in question.
But voter suppression on the platform is undoubtedly still taking place and will likely continue to pick up steam leading up to Election Day. It's a dangerous hoax that can be traced back to a 4chan thread in July, and it persists.
If Twitter can't seem to stop it, just remember this: You cannot vote in the presidential election online.