Android Nougat 7.0 Update: Best features, release date and how to download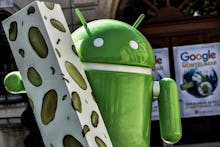 The beta version of the seventh variation of the Android operating system — the Android Nougat — was released this year. The updates to the operating system include 72 new emojis, quick switch features allowing a more streamlined way to move between apps, and a smarter battery.
One of the most useful features is the ability to run two apps side-by-side — the multi-window view feature has previously been available on Samsung and LG handsets, but it's available on all Android devices with the new update. The update also allows smartphones to support Daydream — Google's new virtual reality platform.
Since the beta's release, devices have been slowly adopting the operating system. Here are where four major brands stand on the Nougat update.
Android Nougat 7.0: Motorola
Motorola announced on Monday that its Moto Z and Moto Z Force will be rolling out the Android 7.0 update by the end of November. The update will make the smartphones Daydream-compatible, reports Engadget, making them the first smartphones aside from Google's Pixel and Pixel XL to be ready for Google's $79 VR headset. While the update will vary on the owner's country and carrier, more information can be found here.
Android Nougat 7.0: Nexus
Nexus received the Android update in the end August. Those who own Nexus 6P, Nexus 5X and Nexus 6 phones — in addition to the Nexus 9 and Pixel C tablets — can use the new operating system and its many new features.
Android Nougat 7.0: Samsung
Earlier this month, the Samsung Galaxy S7 and S7 edge owners in the U.S., U.K. and South Korea received access to Nougat beta. In order to apply for the first-come, first-serve access to the beta OS, users need an active Samsung Account and have the Galaxy Beta Program app through Galaxy Apps or the Samsung Members app.
Android Nougat 7.0: HTC
Rumor has it that the HTC 10 will be getting the Android Nougat update by the beginning of December, if not the end of November. HTC has previously confirmed that the HTC 10, HTC One A9, and HTC One M9 will be receiving the update.