'Pokémon Go' Gen 2 Leak: Ditto and 100 new Pokémon revealed in latest update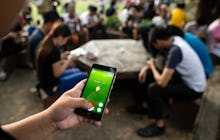 Pokémon Go is expected to get a big "Generation 2" update in the future, and a new leak reveals some of the Pokémon that could be included in the rumored release. Code spotted in the latest version of the app suggests some massive changes could be coming to Pokémon Go Gen 2.
Pokémon Go Gen 2: 101 new Pokémon to play with
Pokémon fan site the Silph Road dug into the latest Pokémon Go Android application package (usually called an APK) and found evidence that Ditto could finally be coming to the augmented reality game. The latest update includes code for a new move called Transform. That sounds like a direct reference to Ditto, an adorable pink blob creature that can take the form of any other Pokémon.
It's unclear exactly how Transform will work in Pokémon Go. It could simply be an action that takes place whenever Ditto enters a battle. However, it is listed as a "move" in the APK, suggesting you'll be able to activate it when needed.
The same Pokémon Go leak also reveals plans to add another 100 Pokémon from Pokémon Gold and Silver. The list starts with Chikorita (#152) and goes all the way up to Celebi (#251). The same APK also groups them into 52 distinct evolution families potentially coming to the game.
Pokémon Go Gen 2 release date: Sooner than you think?
The Silph Road notes that Niantic seems to be picking up speed with recent Pokémon Go updates and the code hidden in them. It's possible the company could be ready to roll out its massive Gen 2 release pretty soon, but we still don't know for sure.
In the meantime, you can grab the latest version of Pokémon Go, which includes daily bonuses and an improved gym system, for Android or iOS just as soon as it hits your app store.