"Mannequin Challenge" Song: How Rae Sremmurd's "Black Beatles" lyrics became a viral trend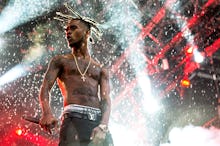 After planking, the Harlem Shake and Harambe, is anyone really surprised by anything the internet decides to turn into a meme? A true student of internet culture must simply accept the inanity, enjoy and try to explain the fads as best they can before they die.
The web's latest fascination is the "mannequin challenge," a stunt that involves a group freezing in the middle of doing some inane activity — like flexing in the classroom, clowning in the locker room or hanging with cats on couches — and having someone walk through the scene as if time has stopped. It often comes paired with a song: Rae Sremmurd's spacey "Black Beatles."
The song has become the unofficial anthem for the challenge, with the group going as far as attempting their own at a concert Thursday night. 
It's not entirely clear how the Sremmlife duo found themselves at the heart of this meme. The first video posted with the hashtag "mannequin challenge," dating back to Oct. 26 according to CNN, doesn't use the song. But the song has dominated the meme anyway, and it's working magic for the group. Billboard posted on Monday that "Black Beatles" is currently No. 9 on the Hot 100, with the publication and chart service crediting the viral trend for its lift. 
The song has also been spiking on YouTube and Pandora, with a rep for the latter company confirming for the Daily Dot that "there has been an over-1,000% uptick in spins of that song in the last 30 days."
The song has an appropriately hazy, psychedelic vibe to it, which its producer Mike Will Made-It described as sounding like a "video game" in a recent Genius making-of video.
The hook also seems to describe that moment of pause right before the DJ pushes the button for an epic drop:
That girl is a real crowd pleaser
Other than that, the lyrics are all stunt raps, with Swae Lee, Slim Jxmmi and Gucci Mane rapping about "cream seats in the Regal" and wearing "leather Gucci jackets like it's still the '80s." 
The song's premise seems to play in part a January 2015 Complex fire take, in which writer Justin Charity gives "10 Reasons Migos Are Better Than the Beatles," arguing their "origin story is the stuff of Marvel and Michael Bay" and their songs are "radical in content and spiritual in nature." 
In one key line, Charity admits Migos' "Rich Nigga Timeline doesn't hold a candle to Rae Sremmurd's debut." With "Black Beatles" on the charts and at the center of the mannequin challenge, no one's ever going to hear the name of Britain's best boy band and think Migos ever again.