The best brunch recipes to make with all those Thanksgiving leftovers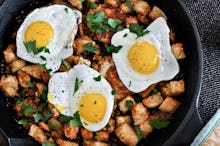 After a big meal, you know you can't wait to wake up again to eat. That's what loving food is all about! 
Take some of those Thanksgiving leftovers and whip up a tasty brunch to breathe new life into the turkey, cranberries and sides that only a few hours ago, you thought you'd never be able to eat again. Here's what to do with your leftovers the morning after Thanksgiving. 
Leftover sweet potato and turkey frittata
Break out the eggs and turn those leftover sweet potatoes and turkey into brunch for the family. Get the recipe here.
Mashed potato waffle, crispy turkey, smashed avocado, cranberry and brie melts
This breakfast sandwich truly makes the most of your Thanksgiving leftovers by turning mashed potatoes into waffles and stuffing it with everything you enjoyed the night before, plus an egg on top. Get the recipe here.
Easy turkey pho
While Americans may more commonly eat pho for lunch or dinner, in Vietnam pho is a breakfast food. So why not have leftover turkey pho for breakfast? Get the recipe here.
Pumpkin pie green smoothie
Use that leftover pumpkin puree and your uncooked greens to make a refreshing smoothie the morning after Thanksgiving. Get the recipe here.
Butternut squash toast with fried eggs
Move over avocado, today is all about squash toast! Get the recipe here.
Turkey breakfast tacos
Turn the day after Turkey Day into taco day with these tasty breakfast tacos that make the most of that leftover bird. Get the recipe here.
Cheesy breakfast stuffing cakes
Leftover stuffing is legitimately difficult to find a use for, so make it into a tasty eggs Benedict-style brunch with this easy brunch recipe. Get the recipe here.
Day-after Thanksgiving breakfast hash 
Crisp up your stuffing for this leftover hash that's just waiting for #YolkPorn. Get the recipe here.
Leftover pumpkin pie breakfast casserole 
Pie? For breakfast? Smash up that leftover dessert and turn it into something worth starting your morning with. Get the recipe here.
Sweet potato waffles
Turn your leftover sweet potatoes (or squash) into waffles that can be enjoyed as sweet or savory brunch options. Get the recipe here.
Thanksgiving leftover breakfast casserole
Thanksgiving eating comes full circle with this casserole that's best enjoyed in the morning! Get the recipe here.