Mannequin Challenge Origin: The true story of the coolest viral video trend of the year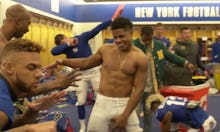 The "mannequin challenge," the new trend in which groups of people hold a statuesque pose, has gone viral. After a number of publications discovered the latest Twitter sensation last week, the mannequin challenge has since been performed by the likes of Kevin Hart, 2 Chainz and the Dallas Cowboys. How did this viral obsession take off?
The mannequin challenge's roots have been traced back to Twitter user @thvtmelanin_, a high school student named Emili from Jacksonville, Florida. "One day I just went to the front of the class and stood there," Emili told Inverse via Twitter DM. "That's when my friend A'laynah said, 'Hey, you look like a mannequin.' Then my friend Bre'Onna and Jasmine joined and we started doing all these crazy poses."
The silly class prank then evolved into a full-blown social media challenge thanks to a little encouragement from a friend, Emili said.
"These days there are so many 'challenges' on social media, which I guess made my friend Deryk suggest that we make it a challenge, and basically we just added him as well as our friend A'laynah and Jalen to do it with us," Emili further explained to Inverse. "Most of the poses came from typical poses that you would see in the mall or in Old Navy."
Utilizing the hashtag #MannequinChallenge on Twitter and Instagram, the trend gained popularity in other high schools, eventually spreading across the country. Now people around the world are doing it. Emili and her friends never thought it'd take off like this.
"Honestly when we posted it we thought it would be known around school and maybe other schools in our city," Emili told Inverse. "We never expected celebrities such as Rae Sremmurd and 2 Chainz to find out about it and do it as well."
Now that it's gone mainstream, the mannequin challenge is becoming increasingly elaborate as participating groups vie for the most audacious poses. 
With the fast-paced nature of the internet, viral trends come and go. There's no telling how long the mannequin challenge will remain relevant. But for now, the mesmerizing, physically demanding stunt has the world's attention, and for good reason — we're witnessing teens creating a new, living art form and challenging the internet to join in.
Check out our compilation of the best mannequin challenge videos here.