Ohio election results live: Donald Trump sweeps state in presidential race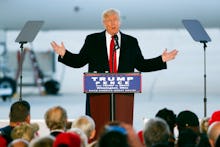 The state of Ohio has gone to Donald Trump. With 18 electoral votes to be won, Ohio and its nearly 12 million residents play a crucial role in electing the next president. 
The state voted for Republican George W. Bush in 2000 and 2004. But in 2008 and 2012, Ohioans voted for Democrat Barack Obama. Since 1900, Ohio has voted for the winner in 27 of 29 presidential elections. The only years they got it wrong were in 1944 and 1960.
There were few problems reported at polling places across the Buckeye State, according to the Columbus Dispatch. The Ohio Voter Rights Coalition told the paper it had received a few calls about voter intimidation. 
"Overall, things are running very smoothly, and we are not aware of any major issues around the state," said Matt McClellan, a spokesman for the Secretary of State Jon Husted told the Dispatch. "We are staying in touch with the counties, so should any issue come up, we will deal with it as soon as we can."
Republican Donald Trump is leading in the polls in Ohio. An Emerson College poll conducted from Wednesday to Saturday put him 7 percentage points ahead of Democratic nominee Hillary Clinton. A RealClearPolitics average of national polls puts Trump ahead of Clinton by 2.2 percentage points in a head-to-head matchup on the eve of the election.
FiveThirtyEight gives Trump a 64.6% chance of winning this crucial battleground state.
Nov. 8, 2016, 10:40 p.m.: This story has been updated.