The Obamas pass the torch back to the Clintons at electric Election Eve rally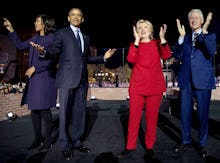 PHILADELPHIA — With just hours to go before polls open across the country, 33,000 people came here to witness the first African-American president pass the torch to a former rival tantalizingly close to becoming the first woman to win the nation's highest office.
Before a massive crowd standing in front of Independence Hall in Philadelphia, President Barack Obama urged the crowd to protect his legacy by electing Hillary Clinton, marking a dramatic culmination to a presidential campaign that comes to a close Tuesday.
"We now have the chance to elect a 45th president who will build on our progress, who will finish the job," Obama said after reciting a litany of his administration's accomplishments. "Someone who comes to this office as well-prepared as anyone who has ever run. More than me. More than Bill."
Three generations of Democratic leadership — daughter Chelsea Clinton, former President Bill Clinton, first lady Michelle Obama and the president — appeared in a forceful show of party unity on the night before millions of Americans head to the polls and decide the next leader of the free world.
The scene was striking, and the choice of venue underscored the historic nature of both Clinton's candidacy and Obama's presidency. The crowd stood awash in floodlights on the mall in front of Independence Hall, site of the signing of the Declaration of Independence and the drafting of the Constitution.
"This country began here," Bill Clinton said in his remarks. "Right here. With people who pledged their lives, their fortunes, their sacred honor, to form a more perfect union."
The Philadelphia Fire Department put the official crowd count at 33,000, with "several thousand" watching outside the security perimeter. It was the largest event of Clinton's campaign.
The appearance was the second-to-last stop for Clinton before Election Day, following stops earlier Monday in Pittsburgh and Grand Rapids, Michigan. After Philadelphia, she traveled to Raleigh, North Carolina, for a midnight rally before heading back to New York, where she will spend Election Day.
The night began with performances by Jon Bon Jovi and Bruce Springsteen, members of Clinton's deep bench of celebrity backers who can attract a large crowd. After Springsteen concluded, Chelsea Clinton and her father took to a separate stage to make their remarks.
Chelsea Clinton spoke briefly before the former president addressed the crowd, casting the choice as "moving forward together or going backward." He introduced Michelle Obama as "the person who I think has proved to be the finest surrogate, supporter, any president ever had."
Obama spoke with both Clintons onstage, hitting on the themes that have made her one of Clinton's most valuable assets on the campaign trail. She stressed the importance of voting, telling the crowd not to become complacent.
"This election is on us," she said. "It is in our hands. If we get out and vote tomorrow, Hillary Clinton will win. But if we stay home or we play around with a protest vote, then Hillary's opponent will win. Period. End of story."
The president took aim at Donald Trump and argued fiercely for voters to reject someone he said has "shown utter contempt for the values that make this nation great."
"Donald Trump is temperamentally unfit to be commander in chief," Obama said, reiterating an argument he has made over the last weeks of the campaign. "Don't take my word for it — listen to the Republicans who have refused to support him. He lacks a basic understanding of the world."
Obama reflected on his own political history, saying that he harbored the same optimism that rocketed him to political stardom at the Democratic National Convention in Boston in 2004.
"You bet on me all those years ago, and I will always be grateful for the privilege you gave me to serve," Obama said. "But I'll be honest with you. I've always had the better odds, because I've always bet on you. And America, I'm betting on you one more time."
"Philadelphia, in this place, where our founders forged the documents of freedom, in this place where they gave us the tools to perfect our union, if you share my faith, then I ask you to vote," he concluded before introducing Clinton.
The former secretary of state pitched herself as a fierce guardian of Obama's legacy.
"I believe we all have a role to play in building a better, stronger, fairer America, building on the progress that we have enjoyed under President Barack Obama over the last eight years," she said. "I am not going to let anybody rip away the progress we've made and turn the clock back."
When Clinton finished speaking, all five speakers waved to the crowd that had waited for hours in the chilly November evening. A half hour later, Clinton was back on her campaign plane, taking off for North Carolina and the final rally of a campaign that could make history in just a few hours.