2016 Election Results: Electoral predictions for Trump and Clinton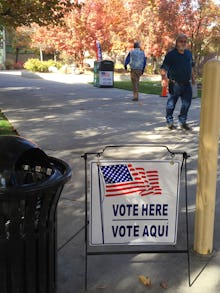 It's officially Election Day, and voters are heading to the polls. By Tuesday night, Democratic nominee Hillary Clinton or Republican nominee Donald Trump could be the winner of the presidency.
While Clinton is heavily favored to win, the electoral map could end up in several different ways.
Hillary Clinton is favored to win most of the swing states.
At the time of this writing, Clinton has a 71.6% chance of winning the election, according to FiveThirtyEight. Clinton is favored to win most of the swing states, including Florida, Nevada, New Hampshire, North Carolina and Colorado. Trump is poised to win Ohio, according to polls. 
The states Donald Trump needs to win 
While Clinton has a clearer shot to victory, the same cannot be said for Trump. There are several states he needs to win to have a plausible chance at becoming president. 
According to CNN, Trump needs win Arizona, North Carolina, Florida, Ohio and Iowa. According to FiveThirtyEight, he is projected to take Arizona, Ohio and Iowa — but it's not looking so great for him in the other states.
If that plan doesn't work, Trump would need to a combination of the other swing states, including New Hampshire, Nevada and Colorado, all of which he is trailing in. 
Clinton's path to the White House is way easier than Trump's.
According to the New York Times, Clinton has 693 ways to win, while Trump has 315. Florida remains a must-win for Trump, and right now, Clinton has a 67% chance of winning the state. A late surge of Latino voters, the support of which Trump is certainly lacking, is giving Clinton the edge she needs for Florida.