The powerful reason why women are wearing white as they vote for Hillary Clinton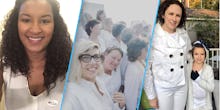 In a matter of hours, Hillary Clinton could make history as the first female U.S. president. And to mark that occasion, women across the country are making a subtle nod to the suffragettes and members of the women's movement by showing up to vote wearing white, even starting a hashtag to celebrate the momentous occasion: #WearWhiteToVote. 
The color white was one of the signature colors worn by suffragettes, starting in the early 20th century as a way to unify participants during a rally in London's Hyde Park. 
So now, while women in America cast their votes in an election that could put the first women in the White House, they're paying homage to the women who first fought for their right to vote more than 100 years ago. 
White has played a unique part of Clinton's campaign specifically, with the former secretary of state wearing a white pantsuit as she accepted the nomination at the Democratic National Convention in July. 
At the time, people immediately saw meaning in her stark-white attire. 
Female candidates before Clinton too have used white to make a nod to the past. 
In 1968, when Shirley Chisholm became the first-ever African-American woman elected to Congress, she wore white. And in 1984, as Geraldine Ferraro made history as the first woman to ever accept the vice presidential nomination for a major party, she wore white. 
So now, women are continuing the trend, following in the footsteps of the history-making women before them, by casting their votes for a female president while wearing a signature color in feminist history. 
If only all the women who fought for this precise moment could see them now.