Jon Stewart joins 'The Late Show with Stephen Colbert' for one final voting plea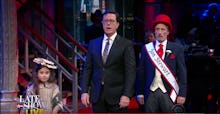 On the eve of Election Day, The Late Show and host Stephen Colbert were treated to another cameo from Jon Stewart to urge Americans to go out and vote on Tuesday. Though Stewart needed a bit of convincing to get there. 
The bit from Colbert's live show starts with a "ragamuffin" little girl who is nervous to vote. She doesn't want to cast a ballot this year, and while Colbert tries to convince her about how important this election is, Stewart bursts in with a campy mayoral outfit supporting her right to sit out. But Stewart's lackadaisical approach to the election is, in part, because he didn't know who was on running. 
"I assume Walter Mondale, that nice Mormon fellow perhaps?" he asks Colbert. 
In repeat bit of Stewart's previous Late Show appearance, he takes a swig of water while Colbert informs him that one of the candidates this year is Donald Trump. 
"Are you kidding me?" he says. "Are you serious? That angry tax-and-draft-dodging little orange groundhog is running for president?" 
The little girl, meanwhile, tells them she can't decide between Trump and Hillary Clinton — the lesser of two evils argument — before Colbert and Stewart unanimously rebuff her: "He's worse!" The undeterred kid then breaks out into a ballad about how she doesn't feel like her voice will be heard, regardless of the candidate. 
"But in civil oligarchy we don't have a real choice/How can I change a system that won't listen to my voice?" she says. 
Unsure of how to respond to her, Colbert and Stewart get some help from Hamilton's Javier Muñoz, the new Alexander Hamilton in the Broadway play after Lin-Manuel Miranda's exit in July. He, like the title character in the play, is not "throwin' away your shot" when it comes to voting this year. 
"Staying home isn't a statement/ You're saying you gave up your say in the way that your state went," he raps. 
Everyone seems to fall in line after Muñoz's rap — and the crowd bursts into raucous applause — leading to one final plea from Stewart ahead of the polls opening Tuesday. 
"You know he acts tough but he's a wussy," he says of Trump. " He'll probably fill the court with Gary Busey. And then he'll grab your mother's ... kitty cat. Meow." 
Watch the segment from The Late Show below: