Election Day 2016: Where to get the latest projections for Trump and Clinton on voting day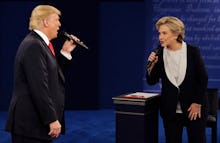 We made it, folks: Election Day 2016. After a tumultuous campaign season that felt like it lasted decades, Americans are finally headed to the polls to vote. Some will cast ballots for Democratic nominee Hillary Clinton, others for Republican nominee Donald Trump — and others still for third-party candidates — and at the end of the day, Nov. 8, we'll finally know the next president of the United States.
Projections will tell us which candidate is leading — but they're controversial.
Polls will stay open from morning to night, so it'll likely be well into the evening before we know our official victor. But you don't need to bite your fingernails until then; as votes roll in, Election Day projections will indicate which candidate appears most likely to win.
A startup called Votecastr, whose data analysts reportedly worked on Barack Obama and George W. Bush's campaigns, will be sharing real-time data and projected outcomes via Slate and Vice. 
Election Day projections are controversial. Churning out reliable projections will be tough work for Votecastr, as the New York Times pointed out; different key demographics tend to vote at different times throughout the day, meaning apparent trends could be skewed, among a number of other factors. 
And as the Washington Post noted, projected results could dissuade voters from heading to the polls — a potential threat to democracy.
"Might a voter in Ohio who planned to cast her ballot after work decide not to bother, upon learning that voting patterns from earlier in the day suggest either Hillary Clinton or Donald Trump is already expected to carry the state?" Callum Borchers wrote.
Nov. 8, 2016, 2:40 p.m.: This story has been updated.