People are slipping into their best pantsuits as they cast their vote for Hillary Clinton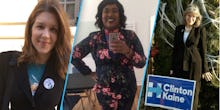 Over the course of the past decade, Hillary Clinton has worn pantsuits in quite literally every color of the rainbow. Red. Orange. Yellow. Green. Blue. Indigo. Violet. She's worn them in black. She's worn them in white. She's worn them in hot pink. She's worn them in turquoise. Name a color, and she has that shade in the form of a pantsuit. 
Even on her own Twitter account, Clinton calls herself a "pantsuit aficionado." So it only makes sense that women and men across the country have decided that when they vote for Clinton, they should do it wearing a pantsuit.
Already on Twitter, mere hours after voting began, hundreds of people are posting pictures of themselves in their finest suit with the hashtag #PantsuitNation, a nod to the secret Facebook group that originally came up with the Election Day idea. 
"We talked about how beautifully and stoically Hillary embodies women's fight for equality, and how the pantsuit is an emblem of that struggle," Libby Chamberlain of Maine who started Pantsuit Nation, told CNN. "It's a symbol that might be lost on younger women, and so I wanted to do something to re-appropriate that symbol and everything that it means to me as a feminist and Clinton supporter."
The Pantsuit Nation Facebook page has more than 2.5 million members, so it's safe to expect lots more pictures of people in pantsuits to invade your feeds throughout the day. 
Oh, and of course these Clinton fans aren't the only ones taking the pantsuit to the polls. 
On Tuesday morning, Clinton cast her vote (presumably for herself) in a light brown pantsuit with a matching light brown leather jacket. 
We're glad she got the memo too.