On Election Day, people are celebrating women with #DedicateYourVoteToAWoman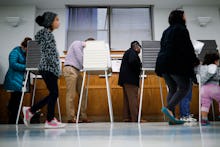 After FiveThirtyEight's Nate Silver created a map showing a landslide victory for Donald Trump if only men voted in the presidential election, a group of incensed — and sexist — Trump supporters called for women's suffrage to be revoked with the hashtag #RepealThe19th. 
On Election Day, female voters came prepared with their response: #DedicateYourVoteToAWoman.
Twitter users took a moment to remember the strong women in their lives, the women who never got the opportunity to vote and the women who died before seeing the first woman ever nominated by a major party run for office — and, of course, the suffragists who made voting possible for women.
Other women dedicated their votes to the women who have too much at stake in the 2016 election: trans women, whose identity and very existence has been challenged by politicians telling them what bathroom they should or shouldn't use; people with disabilities, who have been mocked and attacked by Republican nominee Donald Trump and his supporters; survivors of sexual assault, who have been re-victimized by Trump's flip comments about forcing himself on women; and undocumented women, whose ability to remain in the United States has become uncertain. 
Other women voted with hope for the women of the future — for their daughters, granddaughters and nieces.