Chance the Rapper leads thousands to the polls in downtown Chicago for early voting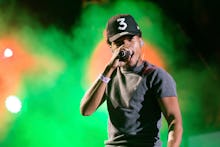 If only the founding fathers could see their son Chance now.
Chance the Rapper, one of Chicago's finest independent MCs, has pulled off what might be the most brilliant musical voter initiative in an election cycle full of them. Starting Monday night with a free performance in Grant Park, he led hundreds of young people in a Parade to the Polls in Chicago's central downtown area, according to Al Jazeera. 
His actions helped contribute to a record turnout for early voters in Chicago, with a reported 350,000 hitting the polls. This is how you use your celebrity to pull off a voting initiative in style.
Parade-goers shared videos of the march throughout Monday evening, which Chance helped to boost on his own pages. He also shared his own "I Voted" wrist band.
This election has enjoyed an unprecedented amount of celebrity intervention. Just about every actor with an IMDb credit or musician with a radio spin has chipped in their star power at some point to remind people of how precious and rare a vote really is — or to simply say "Fuck Donald Trump." 
The thing that separates Chance's initiative is that he's working with bodies on the ground, in addition to engaging eyes on a computer screen or ears in headphones. The rapper also appeared in a Tidal-hosted PSA to encourage voters to support Hillary Clinton. However, this action feels far more meaningful.
There was genuine excitement to vote in these parade crowds, little of the usual smirk and smarm that usually accompanies these celebrity voting collaborations. By borrowing the language and motions of activism, Chance has made the election feel urgent and personal, something so many pundits have been looking to do as time runs down. 
A large part of this strategy, of course, comes from the artist's association with Chicago Votes, which has led young voters to the polls in previous elections. Credit can also be given to the Chicago chapter of Black Youth Project 100, which shutdown Chicago's Michigan Avenue on Black Friday of last year to protest Laquan McDonald's shooting. 
"Show the younger generation what standing up looks like," Chance the Rapper told the crowd during the event on Monday, according to Al Jazeera. "Thank you to everyone that understands that this is what democracy looks like and wanted to have their voices heard."
Thank you, Chance, for helping to give the people a reason to.