Samsung doesn't know why Galaxy Note 7 exploded but the S8 is still on the horizon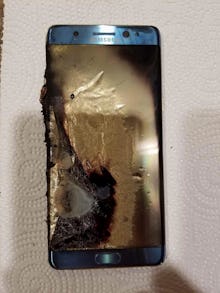 Samsung released a formal apology to U.S. consumers on Monday for discontinuing its Galaxy Note 7 smartphone. The company took out full-page ads on the print editions of the New York Times, the Wall Street Journal and the Washington Post.
In September, the South Korean company issued a voluntary recall for 2.5 million Note 7s across 10 countries after numerous reports of the smartphone catching on fire. But when replacement devices were found to be equally faulty, Samsung opted to discontinue the now-notorious phone altogether.
From the wording of the apology, it appears Samsung still does not know the root cause behind the overheating phones — it was initially said to be a "minor flaw in the battery manufacturing process" — and the inspection into the matter is still ongoing.
Gregory Lee, the president and CEO of Samsung North America, wrote in the statement published in the U.S. papers:
"A careful Note 7 investigation is underway and the findings will be shared when the analysis is complete. The process will be thorough and include some of the best independent technical experts in the world to help inform and validate our work. We will re-examine every aspect of the device, including all hardware, software, manufacturing and the overall battery structure. We will move as quickly as possible, but will take the time needed to get the right answers."
Despite not knowing the exact origin of the problem, Samsung is proceeding to work on its next smartphone launch: the Galaxy S8. The flagship phone is rumored to be missing a headphone jack, will feature a dedicated button for its Siri-like virtual assistant, and be more than 90% screen.
The company, which reported a 30% decrease in profits last quarter in the aftermath of the Note 7 recall, has not declared a release date for the device. In the past, Samsung has unveiled Galaxy S devices at or around Mobile World Congress in Barcelona, which is scheduled for February 2017, but the Wall Street Journal reports executives want to push the announcement back to April.