Hosting a Thanksgiving dinner with friends? Some common Friendsgiving mistakes to avoid.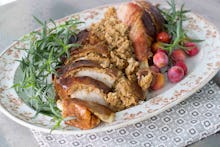 Hosting your first Thanksgiving? You're so ready for this. 
The work starts weeks before, when you start planning your meal, your guest list and what you'll actually need to do on the day of the holiday. But don't be intimidated by preparing the most important meal of the year! With a little extra forethought to avoid common mistakes, everything will be easy as pie (a store bought pie, not homemade pie). Here's what to plan for: 
Vegetarians? Gluten-free? Plan ahead.
You're not running a restaurant, but you do want everyone to be happy at your Thanksgiving meal. Don't forget to ask all your invitees and their guests, if they're bringing anyone, about allergies and dietary restrictions so you can plan accordingly. If they offer to bring their own dish — let them! They know their diet better than you do. 
Don't forget the bar 
Every great party has a bar! "I like to remove some books from shelves and use that space as a makeshift bar and beverage station. Window sills are also great for this," Jung Lee, lifestyle expert and event planner extraordinaire, said in an email. "This can also be where plates and rolled up flatware can be if you are having a buffet. Every surface area should be considered for the event.  Remove all the unnecessary knick-knacks." And, of course, have plenty of alcohol, mixers and ice to serve.
Go for the store-bought bites
"There are so many wonderful store bought things," Lee said. "Just arrange them so they look special: The presentation is what will elevate the visuals of the event." And definitely get rid of any disposable packaging. For example, if you opt for store bought fruit salad or crudités, plate it like you would a dish that you made, like on a wood carving board for a rustic feel. 
Say goodbye to clutter (and hello to a kitchen buffet)
"In a small space, every surface area matters and all the clutter must be put away," Lee said. Let no counter space go potentially unused and put away all unnecessary appliances before guests arrive. "Imagine your kitchen can be a great festive buffet or food court," Lee said. "Use the stovetop as well, potentially for your turkey and sides in Dutch pots, keeping them nice and warm." 
Consider where people are dining
If you're not used to hosting this many people, you may have to get creative with where the meal will be enjoyed. Lee suggests renting a table if you need or getting a piece of plywood larger than your coffee or dining room table and putting it on top of the table to extend the surface. 
To protect your table, put felt or fabric between the plywood top. Of course, you'll also want a tablecloth, but Lee recommends going for an inexpensive one. "I don't like to spend a lot on tablecloths as I don't want to be upset, as undoubtedly it will be soiled," she said. She uses a piece of leatherette, vinyl material found in New York's Garment District which can easily be wiped down and "has a nice autumn touch." You can also try finding a vintage vinyl tablecloth on etsy, which adds some cute charm and is also easy to clean. 
Be aware of table space 
"The narrower the table, the less you have to fill in," Lee pointed out. Around the perimeter, you'll need to leave 12 inches per setting and then plan what's going in the middle, like wine, water pitchers, room temperature food, etc. If you want some low-key decoration, skip the dramatic centerpiece and go for small single noted flowers and small green branches in small cups, to save space. Lee also recommends, "as many candles your table will allow! I think the color of the candle makes a big difference, I like warm ivory beeswax." 
Set your table
Set your table in advance so that it's one less thing to worry about on Thanksgiving day. "I love to set the table very simply. It's really easy to do and immediately makes the home more special!" Lee said. All you need is a dinner plate, flatware, a wine and water glass and a nice dinner napkin (say no to paper!) to set the tone. Lee added that matching isn't always important, and having a variety of glasses and plates on the table can add some cool flare. 
Lee also likes to write a small menu and have the guest name on top. "This way, they know what we are having, and this also adds an inexpensive but nice touch." This is also a great way to assign your guests seats without seeming too obvious about trying to keep a bickering pair of exes away from each other.  
Remember the rest of your house
Even if you're in a small space, guests probably aren't going to restrain themselves to only the eating area. Treat every room in your home like it's expecting guests! "To me, ambience is everything," Lee said. "From what the home looks like, the restroom, the well-appointed candle and liquid soap, extra toilet paper and towels. Great music playing in the background. Food presentation..."  Make a checklist of everything you need to set up before the big day. 
Have fun
Remember that you're doing this to enjoy it, and you should! "It's important a host is ready and excited for the party, as they are the ones who will set the tone," Lee said. "My advice is not to do too much... Nothing beats having a wonderful experience at your home! It is priceless!"