How to order Thanksgiving dinner 2016: 7 last-minute food delivery services for turkey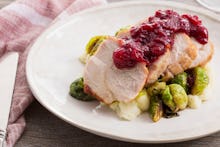 Nice work, you forgot the turkey! 
Or maybe you planned to buy a turkey the weekend before, but your local grocery store was completely out of turkeys. 
Or, worse, you ruined your first turkey over-roasting it and you're in a rush to find a replacement. 
If this is your first Thanksgiving, having a backup turkey on hand isn't a bad idea, but if you need to order a last-minute turkey or Thanksgiving meal this holiday — which is on Nov. 24, by the way — the internet is here for you. Here's where to find that backup bird:
FreshDirect
FreshDirect will be delivering turkeys in the New York City and tri-state area through Thanksgiving Day. If you can plan ahead for a last-minute turkey, order a frozen bird and defrost it two to three days before the holiday. Turkeys start at $2.99 per pound. FreshDirect will also offer completely cooked turkeys and holiday meals that can be delivered on Thanksgiving, ready to heat and eat. Nobody has to know. Order here.
Whole Foods Market
Check with your local Whole Foods store for specific catering options, but the grocery chain will be offering preordered cooked Thanksgiving meals through Nov. 22. Select cities will also offer last-minute grocery delivery through Thanksgiving Day, so you can order that raw or cooked turkey to be dropped at your door. Order here. 
Blue Apron 
The meal kit service will be delivering their last holiday meals on Wednesday, Nov. 23, meaning that those without a Blue Apron subscription will need to sign up by Nov. 17 at 12 p.m. As part of your plan (which you can cancel after the holiday), you can order a roast turkey and cranberry sauce meal that takes about an hour to make and serves two. Order here.
Goldbely
Goldbely has a wide variety of restaurant and specialty food store turkeys from all over the nation, ranging from Turporken and Turducken from Herbert's Specialty Meats in Louisiana to Cajun Spicy Deep Fried Turkey from Uncle Ray's Fried Turkeys in Dallas. All you'll need to do is warm up these precooked turkeys, perfect for last-minute cooking. Order in advance of Thanksgiving to schedule your preferred FedEx date. Goldbely also has tons of sides and pies to help create a unique meal sourced from across America. Order here.
Williams-Sonoma
The last day to order a smoked, prebrined or roasted turkey from this specialty food and supply store for Thanksgiving delivery is 11:59 p.m. on November 18, which gives you plenty of procrastination time for a turkey that will be dropped at your door for the holiday. Order here.
D'Artagnan 
Pick your size of organic, free-range chicken, from $69.99 for 8 to 10 pounds to $181.99 for 24 to 26 pounds, and preorder it for delivery up until 12 p.m. on the Monday before Thanksgiving, Nov. 21. Other birds, including capon, goose, guinea hen and more, are also available to mix up your Thanksgiving meal. Order here.
UberEats
Need more sides? There's an app for that. From New York to Los Angeles and in between, UberEats will be delivering restaurant-prepared sides to your door on Thanksgiving Day. Options range from buttermilk biscuits from Philadelphia's Wishbone to truffle stuffing from Plan Check in LA to duck ravioli from Atlanta's il Giallo Osteria & Bar to smoked gouda mac 'n cheese from The Cafe D by D in Nashville and beyond. No advanced prep needed — just open your UberEats app and order right before you're ready to eat. Get the app here.