Is a new Childish Gambino album coming in December? Release date reportedly leaks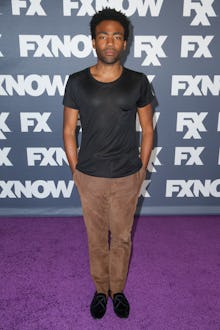 Donald Glover has had a busy 2016, with the birth of his child, creating and acting in one of the best new shows on television in FX's Atlanta and nabbing the role of a young Lando Calrissian in the Han Solo spin-off movie. Forgive him, then, for failing to disclose much news on his rap alias Childish Gambino. 
Glover left his fans in a limbo over the rumors of a new album after likely previewing some of its music at a device-free music festival in Joshua Tree, California, back in September under the name Pharos. In turn, many believed Pharos would be the title of his next album. But new leaks suggest the album is coming in December, called Awaken, My Love. 
There are actually a couple of places the album's name and release have been spotted: One redditor pointed to his loyal FYE's "What's New" sign and a Dec. 2 release date. Plus, AllMusic has the album up with a 2016 release on its site (Complex reported that the album was also seen on Amazon, but the listings have since been removed). 
There's been no word yet from Glover's camp, but a late 2016 album would be a fitting end to one of the best years for the genre — and the industry as a whole — in over a decade. He hasn't released a full studio album since 2013's Because the Internet, though 2014's double mixtape, STN MTN/Kauai did help hold some fans over.
New music from doesn't necessarily mean we'll be getting the Gambino of old. Last year, he said the era of Childish Gambino may be coming to an end, describing the persona as a "period in my art time" rather than a continuation of the artistic identity he's formed. Reactions from his Pharos event — assuming we're talking about the same music for the rumored album release — labored that point. 
"If Because the Internet represented a vape-smoking, phone-obsessed, introspective, existentialist part of Gambino, Pharos opens a window to another side of him: one that is earthier and more ritualistic," the Fader's Tyler Mitchell wrote in September. 
Mic has reached out to Glover's team for comment.