Thanksgiving checklist: The inexpensive tools and kitchen gadgets you'll need for cooking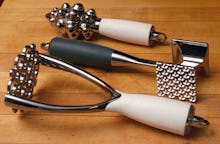 Cooking Thanksgiving is a big undertaking. Between shopping for all the groceries, getting all the recipes selected and making your cooking plan, there's a lot to think about. 
But before you triple-check to make sure you have every ingredient you need (plus extras, in case of spills) for your perfect Turkey Day meal, make sure you have all the necessary gear in your kitchen to actually prep the meal. Sure you have plenty of pots and pans and baking sheets but what about a potato masher? Carving knife? Thought so. 
Here's a checklist of kitchen tools you pretty much can't cook Thanksgiving without and can repurpose throughout the year. 
Baster
While basting or not basting is an ongoing debate in turkey cooking circles, if you're planning to baste your bird, you need the tools to do it. The baster also works well to suck up all the turkey juices from the bottom of the pan to make your gravy. 
Try: 3-piece stainless steel baster set, $7.99 at BedBathBeyond.com
Roasting pan and rack
If you've never cooked a turkey before, chances are you don't have a pan large enough to roast it in. While buying a disposable aluminum pan from the supermarket will work, make sure you have a roasting rack that fits it, which will ensure that the turkey skin gets crisp and the juices can flow out in the most delicious way possible. A turkey without a rack is not worth roasting. 
Try: Sur La Table Roasting Rack, $15 at SurLaTable.com
Meat thermometer
Pretty much the only way to ensure that your turkey is fully cooked is to take its temperature. The thickest part of the turkey needs to reach 165 degrees before it's safe to eat. Pick a meat thermometer that can withstand your oven temperatures so you can leave it in the turkey will it roasts. 
Try: Taylor leave-in meat thermometer, $5 at Target.com
Potato masher or ricer
Never mashed potatoes before? You can cook them until they're super soft and can be easily mashed with a fork but for the easiest, smoothest and lump-free mashed potatoes, you'll want a special tool. 
Try: 18'' Potato masher, $3.99 at WebstaurantStore.com
Crockpot
Especially if you're cooking your first Thanksgiving dinner ever, you'll want to cook at least one dish in a slow cooker. Let the appliance do most of the work while you occupy yourself with more pressing tasks. If you're going to splurge on one kitchen item this Thanksgiving, have it be this. Bonus: Having a slow cooker, especially one that has a programmable timer, will revolutionize your winter cooking. Trust. 
Try: All-Clad Deluxe Slow Cooker with Cast-Aluminum Insert, 4 Qt., $200 at Williams-Sonoma.com
Carving Knife 
Even if your turkey comes out stunning, you're not going to be able to enjoy it without having a sharp carving knife to slice it all up. 
Try: Victorinox 12-Inch Granton Edge Slicing Knife with Fibrox Handle, $46 at Amazon.com
Pastry brush
If you're coating your bird in melted butter (recommended!) or another spice blend or sauce, you'll want a pastry brush to help evenly distribute your flavors. Fingers can only go so far. You'll see ... 
Try: OXO Softworks 1.5" Pastry Brush, $5.99 at Target.com
Prep bowls
Think you have enough prep bowls to prepare a feast? Think again. If you're preparing multiple dishes that all have multiple dry, wet, chopped and who knows what other types of ingredients, expect to need at least 2-3 prep bowls, per dish. If you're worried about kitchen space, pick glass prep bowls that can double also as serving dishes. 
Try: 10-piece glass nesting bowl set, 29.95 at CrateandBarrel.com
Leftovers containers 
Every cook knows the best part of Thanksgiving is the leftovers. But where to put them all? Relying on wrapping that turkey carcass in aluminum foil and funneling the leftover gravy into a sandwich back is pretty weak —you need gear that will keep your food fresh. 
Try: Glasslock 18-pic container value gift box set, $33.99 at JCPenney.com