Smith & Wesson, the largest gunmaker in the US, plans to change its 164-year-old name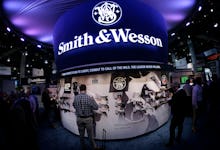 Smith & Wesson, America's largest gunmaker — founded before the Civil War — announced Monday that its board has approved a new name: "American Outdoor Brands Corporation."
Shareholders will vote on the measure in December, and the name change, if approved, would go into effect at the start of 2017. 
One signal the switch will be approved? The company's stock price was up more than 1.8% as of midday Tuesday.
"We believe the name 'American Outdoor Brands Corporation' will better reflect our family of brands," James Debney, Smith & Wesson CEO, said in the company's press release. "Looking forward, we intend to aggressively grow."
It's true that the gunmaker sells other products, and last week the company announced it was acquiring a company that makes survival and camping equipment. But a name change at this point would be more nominal than not: As Bloomberg reported, 90% of Smith & Wesson sales come from firearms. 
The company has denied that there is anything political about the timing of the announcement, despite the imminent conclusion to the 2016 presidential race. 
Chris Krueger, an equity analyst at Minneapolis-based Lake Street Capital Markets who follows the firearms industry, agreed.
"Now the company has multiple brands in addition to the Smith & Wesson brand," he said in a phone interview with Mic. "The new name better reflects the company as a whole. The Board likely made this decision and went public with the meeting announcement without regard to what day it is."
But, as Financial Times U.S. editor Andrew Edgecliffe-Johnson suggested in the tweet below, Smith & Wesson may have a lot to gain from distancing itself from the firearms industry.
Gun companies have historically seen surges in sales in the wake of major Democratic victories — the presumption being that a win for progressives signals impending gun control legislation.
"Smith & Wesson stands as one of the greatest American brands of all time and we wholly intend that it will remain so," a company spokeswoman wrote in an email to Mic. "It is that holding corporation that we will name American Outdoor Brands, a name that we believe represents our growing array of brands and companies."
November 8, 2016, 4:10 p.m.: This story has been updated to include a comment from Smith & Wesson.