Election 2016: How to track live election updates in real time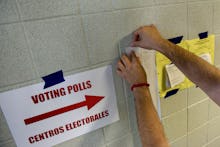 Americans' hands will be planted firmly on the refresh button Tuesday night, as results start pouring in from one of the most fiercely contested presidential elections in history.
The main source that counts and reports results is the Associated Press, with many news organizations using their data on their websites.
The New York Times has stellar graphics and modeling to predict how far ahead one candidate is as results come in.
BuzzFeed is taking a different approach in 2016, nixing the AP's data and instead partnering with Decision Desk HQ to determine when to call races.
All of the TV networks will also be airing live coverage and reporting results on the ticker throughout the night.
Results should start rolling in around 7 p.m.