How to get a free battery replacement for your iPhone 6s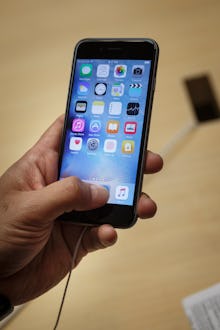 After reports of some iPhones in China spontaneously shutting down with battery life remaining, Apple announced Monday that it is offering free battery replacement to customers around the globe who have experienced similar issues with their iPhone 6s devices.
"Apple has determined that a very small number of iPhone 6s devices may unexpectedly shut down," the company said on its website. According to Apple, this problem only impacts "a very small number" of smartphones within a specific serial number range manufactured between September and October 2015. The company says there are no issues regarding safety.
Last week, China Consumers Association — a state-approved consumer-protection group — announced it was investigating complaints about iPhones shutting off with more than 50% battery life remaining. Consumers are reportedly unable to turn their device back on until it is plugged into a power source.
"In view that Apple iPhone 6 and iPhone 6s series cellphones in China have a considerable number of users, and the number of people who've reported this problem is rather many, China Consumer Association has already made a query with Apple," the group said in a statement last week, reported Reuters.
How to know if your phone is eligible
Those who own an iPhone 6s and have experienced a device shutdown can either visit an Apple store or an authorized third-party service provider — wireless carriers are not participating in the program — to see if their phone is eligible for a battery replacement. Here, the iPhone's serial number can be checked to determine whether it falls within the range and manufacturing date of devices being recalled. Customers also have the option to contact Apple's Technical Support service.
How much will it cost?
If the device is eligible, the battery replacement is free. That said, Apple did say that should a customer's smartphone have "any damage such as a cracked screen which impairs the replacement of the battery, that issue will need to be resolved prior to the battery replacement." Repairing pre-existing damage may come with a cost. As for consumers who have already paid for a battery replacement, they can contact Apple for a refund.
What to do before the battery replacement
Apple recommends taking 3 steps prior to going through with the battery replacement process: backing up the device's data to iTunes or iCloud; turning off the Find my iPhone feature; and erasing data and settings by going to Settings > General > Reset > Erase all Content and Settings.