An Orthodox Jewish immigrant voted in honor of fallen Muslim U.S. Capt. Humayun Khan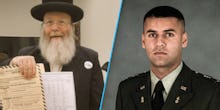 If there's one positive aspect of Donald Trump's running for president, it's that he has united people from all faiths to defend religious liberty. 
Yosef Rapaport, an Orthodox Jewish immigrant in New York City, is one beautiful example.
On Election Day, Rapaport tweeted a photo of himself holding his ballot juxtaposed with a photo of fallen U.S. Captain Humayun Khan and his tombstone in the Arlington National Cemetery. 
"I'm an Orthodox Jewish Immigrant. My vote is private," the tweet read. "Dedicated in honor of U.S. Captain Khan, his devotion makes (religious) freedom possible."
Khan was a Muslim Pakistani-American immigrant who was killed during his tour of duty in Iraq on June 8, 2004. Khan tried to peaceably approach a dangerous situation to protect his fellow soldiers.
At the 2016 Democratic National Convention, Khan's parents, Khizr and Ghazala Khan, honored their son and condemned Trump's attack on Muslims and his discriminatory policy proposals. Then, naturally, the GOP nominee proceeded by publicly insulting and attacking the Gold Star family.
"Religious liberty is something that is important to me as an Orthodox Jew," Rapaport, who emigrated from Canada, said in an interview. "Those who attack Muslims for their religion are just one step away of denying me my freedom to practice my religion."
In August, Trump proposed Muslim immigrants go through ideological tests to ensure they won't replace Shariah law with the U.S. Constitution. Shariah law is a set of religious principles that are interpreted from the Quran and the Prophet Muhammad.
Testing people because of their religion doesn't sit well with Rapaport. He mentioned that his Orthodox Jewish community also follows its own religious legal codes.
"The attack on 'Shariah' is a direct assault on Jewish law practice," Rapaport said. "I'm sure Captain Khan ate halal food supplied by the U.S. Army in accordance with Shariah law — and that's good!"
"It's the same army that makes sure Jews in the armed forces have their kosher meals," Rapaport added.
But regardless of who will be the next president of the United States, Rapaport believes young Muslims like Khan, or anyone really, should stand up for religious liberty.
"We should stand together on religious liberty and respect."