4chan trolls wanted to take down Clinton's call lines — and they might have succeeded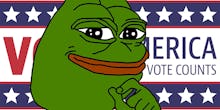 Users of the site 4chan, a popular destination for alt-right trolls and Donald Trump supporters, have been trying for months to sabotage the election by spreading hoaxes on social media. In one of its recent schemes, trolls might have successfully taken down phone lines for Clinton campaigners. 
"Hey /pol/, Sparky here," one user posted in 4chan on Monday, as reported by Engadget (the archive link is now down). "I am a tech specialist who currently has access to a slightly weakened version of the Mirai botnet, currently pumping out around 130GBPS." 
The aforementioned Mirai botnet was the same type of cyberattack tool used to take down Twitter, Spotify, Reddit and a slew of other sites last month.
"Clinton's current Nevada phone lines are hosted on tcnp3," the user added. "Through a mixture of DNS and NTP methods I have managed to achieve 100% packet @ 207.138.87.14, all phone lines taken out. List targets here that if taken out could harm Clinton's chances of winning and I will pounce on them like a wild animal. Not sleeping until after this election is over, lets un-do a little of the fuckery the DNC has caused."
Basically, the user claimed they'd hit Clinton-campaign services with distributed denial-of-service attacks, which flood systems with traffic in order to overwhelm them and shut them down. 
The same day the threat was posted on 4chan, pro-Clinton campaigners with NextGen Climate faced issues with their phone lines, which the Verge reported were "suddenly clunky" or entirely cut out during "crucial hours in the afternoon." 
"It was slower in the morning, and then went down for hours at a time," NextGen's Suzanne Henkels told the Verge. Henkels said they were still able to make calls throughout the weekend and used alternative means, such as texting, to reach voters, but the phone lines were down during a critical time — the night before Election Day. 
As the 4chan user noted, they targeted call center company TCN, which serves NextGen. Like last month's attack, which attacked DYN, a domain server for Twitter, Spotify, etc., hitting the central service provider subsequently takes down its clients. In this instance, hitting TCN could explain why NextGen's phone lines weren't operating efficiently. It also means TCN's other phone lines it serves could have been negatively impacted. 
And 4chan has since pointed out the Verge article, calling the site out for "snitching."
"Got a snitch from the Verge aka that shitty blog that talks about the iPhone and occasionally Kanye and shitty Netflix shows," a user posted in 4chan on Tuesday.
With just hours left to vote in the presidential election, 4chan continues to mobilize to conjure up plans that will steal votes away from Clinton during the final stretch.