Melania Trump wears Hillary Clinton's favorite designer, Ralph Lauren, on election night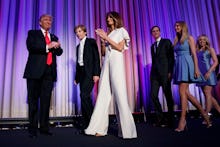 Perhaps the only slightly predictable or even fathomable thing that happened last night, after Donald Trump defeated Hillary Clinton in the presidential election, is what Melania Trump wore. 
To Trump's Hilton Hotel results party, Melania Trump wore a simple, elegant one-sleeved jumpsuit with a fluttery sleeve in one of her signature colors: white. 
Though there was just one unpredictable thing about this outfit.
Throughout her husband's campaign, Trump has favored foreign designers, from Balmain to Gucci to Roksanda. But this time, Trump wore an American designer. And not just any American designer, but Ralph Lauren — a designer that the New York Times had predicted would be Hillary Clinton's designer-in-chief, after Lauren designed many of Clinton most iconic looks, from the white pantsuit at the Democratic National Convention to the navy and white suit she wore for a debate. 
So now here was Melania Trump, our next first lady, wearing Hillary Clinton's favorite designer as her husband effectively became president-elect. 
To some, it was an obvious snub to Clinton not just because of the designer, but because it was like Trump's own spin on Clinton's signature pantsuit. 
Trump's husband, meanwhile, wore his own signature large, black suit, with that enormous red tie. 
Mic has reached out to Ralph Lauren for comment.