You should turn off your read receipts for good. Here's how.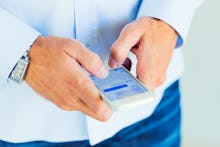 Read receipts are a source of great contention. Are they pronounced "red" or "reed?" And more importantly, should you have them on? The answer: probably not. Read receipts are for weirdos. 
For the unacquainted, read receipts are the stamps at the end of an iMessage thread that shows if and when the person you're texting with has read your text message. Turning them on can inflict a great deal of stress on the person on the other end — especially when dating. There's nothing worse than seeing your text has been ignored for hours — or days — without a reply. In theory, read receipts hold people accountable. But actually, they're often just rude. So do everyone in your life a favor and turn them off. Here's how.
How to turn off read receipts
Read receipts aren't turned on by default, but don't worry if you turned them on in the past and forgot how to do it. Flipping the switch back off is super easy. 
All you need to do is head to your iPhone's Settings and select Messages. The third option will show you a button for "Send Read Receipts." Turn it off, and you're all done. Simple as that. 
It may not seem like a big deal, but you've just done everyone of your contacts a great service. Good job.