Donald Trump campaign files lawsuit against Nevada early voting, gets shut down by judge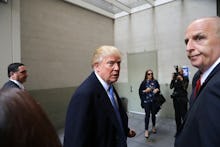 Donald Trump's campaign filed a lawsuit Monday regarding early voting at majority-Hispanic voting locations in Nevada, alleging voters were allowed to get in line after polls closed on the final day of the early vote period, which they say is a violation of election rules.
Trump's campaign asked for voting machines and the ballots that came from them to be "set aside, sequestered and impounded" from these majority-Hispanic locations so they could be investigated to ensure those who voted there did so in accordance with rules. The campaign also asked for poll workers' information to be preserved so that those workers could be interviewed.
But Judge Gloria J. Sturman, who heard the Trump campaign's lawsuit Tuesday, denied the request, calling it "offensive" and saying the Trump campaign may not have even had the right to bring the lawsuit in the first place.
Sturman added that making poll workers' names and information public would open them up to harassment, when these workers were merely trying to help their fellow citizens vote.
"Do you watch Twitter? Have you watched any cable news shows?" Sturman said with an incredulous tone.
"I am not going to expose people doing their civic duty to help their fellow citizens vote ... to public attention, ridicule and harassment," Sturman said. "I'm not going to do it."
Ultimately, Sturman denied the Trump campaign's request, saying the lawsuit skipped multiple steps, including the most basic one — talking to the secretary of state, who oversees elections, about whether there is any evidence that rules were broken at these early voting locations in the first place.
The Trump campaign's lawsuit came after Hispanic voters turned out in droves in Nevada's most populous county, potentially giving Hillary Clinton an edge in a state that is crucial to Trump's path to victory.