Jay Z, Solange photographed in an elevator together — and Tina Knowles deleted the photo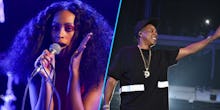 Solange Knowles and Jay Z's 2014 elevator fight was a tabloid writer's wet dream when it first went down. Her elevator-length kick was felt around the world, and it seems the damage it did has yet to fully heal.
Tina Knowles, mother of Beyoncé and Solange, attempted to share an innocent pic on Instagram on Monday of her son-in-law, Jay Z, and her youngest daughter enjoying some quality family time in an elevator. Both Jay and Solange are beaming over her son, Daniel Julez Smith Jr., and enjoying a minute of quiet. But apparently elevators will never be a peaceful place for American hip-hop's most powerful family: Knowles deleted the pic shortly after posting, but not before the Shade Room could catch it. 
The 'gram, as Ms. Knowles would do well to remember, never sleeps.
According to Yahoo Celebrity, the pic seems to date back to Saturday, when Solange celebrated the groundbreaking success of her new album, A Seat at the Table, by performing on Saturday Night Live. The record earned the R&B star her first No. 1 album.
Perhaps Tina Knowles felt the picture might overshadow the news about the performance. Perhaps she couldn't take the jokes in her timeline — the trolls have simply moved to Twitter to post those. Or perhaps Knowles is the one really doing the trolling. Whatever the reason for the quick post-and-delete, it opens up the question we never fully got an answer to: What really happened in that elevator?
The original elevator fight took place after the Met Gala in May 2014. It was caught by the venue's security camera and shared to the world via TMZ. It generated such riotous speculation among cultural pundits that the family posted a statement about the incident:
As a result of the public release of the elevator security footage from Monday, May 5, there has been a great deal of speculation about what triggered the unfortunate incident. But the most important thing is that our family has worked through it.
A little under two years later came Beyoncé's Lemonade, which seemed to many to be a partial answer to what might've gotten Solange so worked up that she needed to lay into Jay Z in front of his wife. However, alongside Lemonade's cogent examinations of what it means to be a black woman facing America's past, present and future, that gossip angle still feels like the most reductive way to view that album.
It's possible the answer to the elevator question is still forthcoming. Beyoncé and Jay Z have been reportedly working on a collaborative album in secret. Perhaps that release will shed some light on this undying feud, because apparently we won't be getting any answers from Momma Knowles.