3 Things That Will Happen In 'American Horror Story' Season 6, episode 9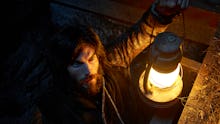 Who will be the sole survivor in American Horror Story: Roanoke? That's the question heading into the penultimate episode of season six.
Shelby and Dominic were killed off in episode eight, leaving Lee, Audrey and Monet as the only remaining cast members from "Return to Roanoke: Three Days in Hell." However, a former reenactor from "My Roanoke Nightmare" showed up at the North Carolina farmhouse in the final moments — Dylan, the actor who played Ambrose White, the son of the Butcher.
It's been previously confirmed that only one person will survive the horrors of the blood moon, and episode nine will continue whittling down the cast — while also introducing new characters. Check out three things that will happen in the new episode on Wednesday:
Someone is not a believer in the blood moon.
"It's real," Audrey yells in the episode nine promo video. "Everyone is dead. We're going to be next if we don't find a way out of here."
It's not clear who Audrey is talking to, but one can assume it's newcomer Dylan. He was only on set during the summer and never got a chance to experience the supernatural happenings during the blood moon. It looks like Dylan was pre-scheduled to deliver some scares on the set, so he may have a hard time believing that a majority of the cast is actually dead — especially since bodies at the farmhouse have a tendency to disappear.
Finally, the police are coming!
Show producer Sidney took away everyone's cellphones prior to filming, so no one has been able to get in touch with the police. On top of that, Mama Polk hinted last week that her cannibal hillbilly family has been paying off the police to stay out of their business. Despite all that, someone does go to the authorities to beg them for help. 
"Do any of you not get what's going on here?" a mysterious man demands in an interrogation room. "The blood moon is coming."
It's not clear who the man is, or what his connection to the show is. However, his plea at the police station appears to have worked. Another clip from the trailer shows police cars racing towards the farmhouse.
Taissa Farmiga's character is rumored to appear.
"Murder House" and "Coven" star Taissa Farmiga is believed to be appearing in episode nine. The theory is that she makes a brief appearance in the trailer as one of the hikers who finds producer Diana's overturned car — and possibly her decaying body.
American Horror Story season six, episode nine airs on FX Wednesday, Nov. 9 at 10 p.m. Eastern.