'Super Mario Run' release date (iOS & Android), price & rumors: Everything we know so far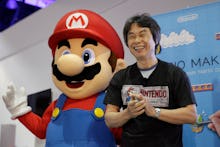 It's been more than two months since Nintendo first joined Apple onstage to announce Super Mario Run. There's still plenty we don't know about the mobile game, but, as its December release date draws closer, more details are starting to come in.
Here's a quick rundown of everything we've learned about Super Mario Run in the past few weeks.
Super Mario Run release date is still on track
According to video game industry analyst Dr. Serkan Toto, who's reported on Super Mario Run development in the past, the game is still on schedule for its promised December launch.
We still don't have a specific release date, but you can signup for notifications in the Apple App Store to find out as soon as it launches (over 20 million people have already signed up). Super Mario Run is also set to land on Android devices ... eventually, but that might not happen until next year.
Is Super Mario Run headed for the Nintendo Switch?
Super Mario Run might be a mobile game, but it could be headed to the Nintendo Switch too. A recent Japanese patent filed by Nintendo reveals potential plans to bring the side-scroller to its upcoming console.
The patent in question was re-published on gaming forum NeoGAF. It clearly mentions Super Mario Run by name and then suggests the game could run on "home video game machines." That doesn't guarantee Super Mario Run will launch on the Nintendo Switch, but we wouldn't rule out the possibility.
Super Mario Run release will be even bigger than planned
Super Mario Run was originally set to launch in 100 countries this year. Late last month, Nintendo upped that number to 150 countries during a presentation to investors.
The company also explained how pricing will work for the mobile game. Super Mario Run will be available as a free download that includes a limited demo. From there, players will have to pay a one-time fee to access the full experience.
Super Mario Run release could be as big as Pokémon Go
Nintendo obviously has high hopes for Super Mario Run, but it could be difficult to follow the runaway success of Niantic's Pokémon Go. Speaking to Bloomberg, Nintendo President Tatsumi Kimishima said the company expects its new mobile game to do just as well.
"This time we're using Mario, that's a very important intellectual property for us," he said. "And that's what [Shigeru] Miyamoto's team is working on now: making sure it spreads out just as quickly as Pokémon Go."
Super Mario Run: Made with Unity
Earlier this month, Unity Technologies revealed that it's working with Nintendo to launch Super Mario Run. 
Unity's software engine is a popular choice for video game developers. The company boasts a number of successful titles developed using its technology, including Crossy Road, Monument Valley and Pokémon Go. That should put Super Mario Run in good company once it launches next month.
Super Mario Run: Everything we still don't know
Despite everything we've learned about Super Mario Run in the past few weeks, there's even more that we still don't know. 
The specific price is still a mystery, though we're guessing it will come in at around $5. The official release date is also unclear, but we wouldn't be surprised if Nintendo just barely makes its December deadline.
Hopefully, Nintendo will clear up those questions soon, but until then we'll keep an eye out for any more information.