Presidential election results live blog: The latest in the Trump vs. Clinton race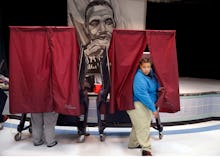 The 2016 presidential election has almost come to a close.
Polls are open for just a few hours more across the country, as Americans get the chance to decide between Donald Trump and Hillary Clinton.
Throughout the day, voters have reported long lines in states across the country, with turnout expected to eclipse the levels set in 2012, when President Barack Obama was re-elected to a second term.
Mic will keep you updated throughout the night on results as they come in, as well as tidbits from the campaign trail, where our reporters are stationed with Trump and Clinton.
All times are Eastern.
11:37 p.m.: It appears Clinton no longer has a path to victory
At 11:30 p.m., networks began calling Wisconsin and Iowa for Trump.
Because Trump won Florida, Ohio and North Carolina, this means Clinton likely has no path to the 270 Electoral College votes needed to victory.
Networks haven't called it officially, but that's the road we're on.
Donald Trump looks like he's going to be president of the United States.
— Emily Cahn
11:15 p.m.: Grim mood at Clinton headquarters
NEW YORK — A gloomy pall has fallen over the large crowd gathered at the Javits Center in Manhattan for Hillary Clinton as Donald Trump pulled off key victories in Ohio, Florida and North Carolina.
The assembled crowd watched on a large screen hanging from the literal glass ceiling as state after state that the Clinton campaign considered likely wins fell for Trump. Earlier in the evening, supporters from across the country waited in long lines to gain entry to what they thought would certainly be an early victory.
Voters, however, appear to have other plans. Trump now has several plausible paths to victory, and Clinton's supporters and staffers are nervous.
One staffer, asked to describe what they were feeling, replied, "Nauseous."
— Stefan Becket
10:50 p.m.: Things are grim for Clinton
Things are looking extremely dire for the Clinton campaign.
Trump vastly over performed in the Midwest, cracking the blue wall and potentially handing him the White House.
The Associated Press called Florida for Trump.
And now, the Upshot gives him a 91% chance to win.
Trump looks like he'll be president of the United States.
— Emily Cahn
10:08 p.m.: Polls are now closed in Nevada
Nevada is now a battleground state that Clinton very simply cannot afford to lose.
Early voting looked promising for her there. The state's top reporter, Jon Ralston, had predicted Clinton would win here based on early vote.
But then again, so did early voting in Florida, where she is currently trailing Trump and looks like she'll lose the state.
Much of the vote in Nevada was cast early, so we'll know pretty quickly how dicey things are looking for Clinton.
— Emily Cahn
9:56 p.m.: Dow Jones futures plunge as Trump's odds increase
The Dow Jones futures market is plunging as Trump's chances at the White House have surged.
Throughout the week, as Clinton's polling numbers fell, stocks plunged too.
Wall Street is not a fan of Trump, apparently.
— Emily Cahn
9:30 p.m.: Things are looking hairy for Clinton
Results are rolling in now, and Clinton has steadily lost ground since the first polls closed.
Trump is over-performing in rural areas, while Clinton is under-performing.
The New York Times' Upshot forecast now has the race at pretty much a 50-50 toss-up.
This could be a long night... and not a good one for Clinton.
— Emily Cahn
9 p.m.: Yet another swath of polls close including Wisconsin, Colorado and Arizona
Polls have closed in another round of key battleground states, including Wisconsin and Colorado — two major battlegrounds.
As results have rolled in from previous states, it makes states like Wisconsin and Colorado even more important for Clinton and her "blue firewall.
Results in Florida are as tight as they come, with Trump holding a razor-thin lead with almost all of the vote in.
It's a similar situation in North Carolina, where Clinton currently has a slight lead.
Watch for results in this next slate of states to come in. If things are tight, this could be a long night.
— Emily Cahn
8:36 p.m.: Republicans will keep control of the House of Representatives
It was never really in doubt, but NBC projects that Republicans will keep control of the House.
To be sure, that doesn't mean Republicans won't lose seats from their majority, which currently is at a high watermark of 246 seats.
But whoever wins the White House will have a Republican Speaker to contend with.
— Emily Cahn
8:12 p.m.: Searches for voting problems surge in Florida, North Carolina and Maryland
Polls are closed in these three states, but Google search data shows that voters in Florida, North Carolina and Maryland were searching about voting problems more than any other state.
In the swing state of Florida, search traffic for "no puedo votar," which translates to "I can't vote" in Spanish, surged in the state.
And in Durham, N.C., searches for voting machine problems spiked.
Voting in Durham was extended by an hour, after a tech glitch with voting booths caused long wait times at the polls.
— Emily Cahn
8 p.m.: Huge wave of states have now closed, including crucial Pennsylvania and Michigan
Almost every state along the East Coast is now closed, including the key states of Pennsylvania and Michigan.
Trump had been pushing to turn Pennsylvania red, a task many Republicans before him have tried but failed to do.
So far, a handful of states have already been called in states considered safe for both Clinton and Trump.
In the swing states, the New York Times' forecast shows Clinton with leads in many of the must-win states on the map.
— Emily Cahn
7:30 p.m.: Polls are now closed in Ohio, West Virginia and most of North Carolina
Polls in three more states have now closed, including two huge battleground states — Ohio and North Carolina.
Polls have had North Carolina tight for much of the race, and Democrats are hoping to win there to choke off yet another path for Trump to reach the 270 Electoral College votes needed for victory.
Democrats just got an extension for voting in some key Democratic counties of the Tar Heel State, where troubles with the voting mechanisms had caused long lines early in the day.
Polls had Trump leading in Ohio, but Clinton and her top surrogates continued to make stops there in the final days of the race, suggesting the state was still competitive.
By now, results in these important states are coming in, and data looks promising for Clinton — so far.
In fact, CNN reported that a "senior Trump adviser" said that "it would take a miracle" for Trump to win.
— Emily Cahn
7 p.m.: Polls are now closed in major battleground states
Polls are now closed in some major battleground states, including New Hampshire, Virginia, Georgia and most of Florida. A portion of Florida's panhandle closes at 8 p.m.
Virginia is expected to be a Clinton stronghold, while New Hampshire — where polls showed a tightening race in recent days — is key for both candidates.
The majority of Florida's vote is cast early, so right off the bat it will be clear whether Clinton or Trump holds a lead.
If Clinton can win Florida, it might be lights out for Team Trump.
The first states have also been called, after polls closed in all of Indiana, Kentucky and Vermont.
Trump took Indiana and Kentucky, while Clinton won Vermont.
— Emily Cahn
6:26 p.m.: Trump campaign begins to blame the RNC, before polls even close
Even before polls have closed in most of the battleground states, Trump's campaign staff is reportedly pointing fingers at the Republican National Committee for not aiding their turnout operation, according to NBC News.
In an appearance on MSNBC, Trump Campaign Manager Kellyanne Conway told Chuck Todd that Trump, "didn't have the full support of the Republican infrastructure."
The early blame-game could be a sign that things are not going the way the campaign hoped.
— Emily Cahn
6 p.m.: The first polls have now closed
Polls in parts of Indiana and Kentucky are now closed, the first polls of the night to close.
Both are strongholds for Donald Trump and should be called pretty quickly.
But a Senate race in Indiana is a key pick-up opportunity for Democrats.
Busy yourself by watching the numbers from that race before the next wave of polls closes at 7 p.m.
— Emily Cahn
5:15 p.m.: A former president abstains from voting for either Trump or Clinton
Former President George W. Bush and his wife, former first lady Laura Bush, did not cast their ballots for either Trump or Clinton, CBS News reported.
Of course, Trump notoriously attacked Bush's brother, Jeb Bush, in the 2016 primary.
Earlier this year, it leaked that former President George H.W. Bush would be casting his ballot for Clinton.
That's a historic move, as a former Republican president would be backing a presidential candidate from their opposing party.
— Emily Cahn
5:08 p.m.: North Carolina considers extending hours
Amid high turnout, some North Carolina counties are considering keeping polling locations open for longer hours, the Washington Post's Robert Barnes reports.
North Carolina is a key battleground state. If Clinton wins here, it could block any path to the presidency for Trump.
— Luke Brinker
5 p.m.: Turnout expected to be higher than 2012
In the critical swing state of Florida, turnout levels will surpass those of 2012 — when Obama won by less than a 1-point margin over Trump, according to New York Times data guru Nate Cohn. — Emily Cahn
The counties where turnout is up are those that Obama won by large margins. They also have large Hispanic populations, which could portend good news for Clinton.
— Emily Cahn