Donald Trump's sad, ugly cake likeness is the laughing stock of the internet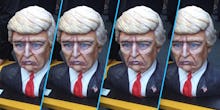 As evening rolled in on Election Day, Donald Trump and his team apparently decided the best way to await exit poll results was to nosh on an XL cake replica of the Republican presidential candidate himself.
Several folks on Twitter, including ABC News' Jason Volack, caught the edible bust rolling into the Trump Tower on Tuesday.
Would you want to eat your own face if you were running for president? If you're the same guy who used charity money to commission two 6-foot portraits of yourself, you just might.
First thoughts here? If you eat a piece of this cake, its fondant is most certainly going to dye your teeth. There's no written rule in any official book, but giving a speech while sporting blue-black ivories is probably not advised.
Other thoughts: Could it be that this rendition of Trump makes the 70-year-old look older? How will whoever is tasked with cutting this cake decide to slice? Does one cut through it nose first, or start at the shoulder? Is this a victory cake or a defeat cake?
This masterpiece (?) was crafted by a bakery called Melissa Alt Cakes, according to Huffington Post reporter Eliot Nelson, and allegedly took a whopping 50 hours to bake.
People on Twitter, unsurprisingly, had stuff to say (and do) regarding this cake:
Cake is virtually always a good idea. Today, that has changed.