FIT's Black Fashion Designers exhibit is a celebration of fashion's unsung heroes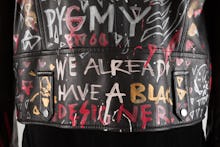 When asked to call the names of black designers, most can only name a few. For years, they have gone underrepresented, underreported, and rarely are they credited with the impact they have made on culture, from music to street culture, politics to race relations. 
On Dec. 6, Museum at Fashion Institute of Technology, or FIT, will open its exhibit Black Fashion Designers, in an effort to celebrate the many contributions that black designers have lent to American history. 
Not only will it commemorate black designers who have paved the way for those to come, but it also introduces museumgoers to current black designers from across the globe whose brands are carrying the torch by shaping the industry through design and working to enhance the representation and voices of designers of color.
The idea for the exhibit was sparked after assistant curator at FIT, Ariele Elia, visited the Black Dress exhibit at Pratt Institute in 2014, which presented the work of 10 New York-based black fashion designers. Elia was not only taken aback by how many designers there were, but by how many of the names weren't recognizable to the average person. After that exhibit, Elia went back to the archives at Museum at FIT to take stock of how many black designers were represented in its archives and was surprised to find that there were many represented. 
Elia, along with curatorial assistant Elizabeth Way, have been hard at work for nearly two years to bring the exhibit to life. "In our research, we really felt that black designers have been underrepresented," Way said in an interview. "Underrepresented in history, underrepresented in the industry today. We really wanted to celebrate them."
Visibility is what this exhibition grapples with, as it unearths the ways in which the work of black designers in the United States and abroad have influenced the canon of fashion history. Black Fashion Designers features work by popular designers who have shown at New York Fashion Week, and others whose designs have made a runway out of the streets of New York City. 
Tracy Reese, Public School NYC, Cushnie et Ochs and Harbison are just some of the contemporary designers that headline this exhibit, while designs by Stephen Burrows, Willi Smith and Scott Barrie act as a homage to the outstanding black designers who rose to fame in the '60s and '70s.
This isn't the first time that Museum at FIT has embarked on an exhibit dedicated to black designers. In 1992, Harold Koda curated an exhibit dedicated to the Black Fashion Museum founded by Lois K. Alexander Lane in 1979 in Harlem. "To hear of a slave having a really beautiful cape doesn't surprise me," Koda told Robin Givhan in a 2010 interview on the Black Fashion Museum's newest relocation to the Smithsonian. "Even if it was just calico, she would have still made something that said, 'I'm worthy.'"
That is what's so special to this exhibition and those before: Beyond the clothing, it is a testament to how black people have used fashion as an element of transformation, as they reimagined and rewrote their history through their bodies. And that transformation was not, and is not, predicated on the marginalizing ways that they had been previously written into society, but in a way that displayed their worth. 
That element of self-determination through dressing the body and designing for other bodies is crucial to the evolution of black fashion designers.
While the Black Fashion Museum exhibit included 37 designers, according to Elia, Black Fashion Designers features more than 60, and is organized into eight themes: breaking into the industry, the rise of the black designer, evening wear, African influence, street influence, activism, menswear and experimentation. Although most of the exhibitions in the Fashion and Textile History Gallery at the museum usually begin with 18th century dress, Elia and Way chose a thematic approach to ensure that museumgoers walk away with a wealth of knowledge about black fashion designers instead of a one-sided perspective.
"Our exhibition is organized thematically," Way said. "And this is also really important because one of the goals of the exhibition was to really show a wide range of design by black designers. That black design is not one thing."
Being defined as a "black designer" is sometimes considered pigeonholing. At times, designers have found it disheartening that their race often comes before their talent. For example, Ann Lowe, a dressmaker who rose to great popularity after designing Jacqueline Kennedy's wedding dress, was referred to as a "colored dressmaker," in stories published about the Kennedy ceremony. Such a problematic past of being belittled by your race is something that has long followed black Americans. So an exhibition set aside just for black designers could potentially be read as a little puzzling. 
Nevertheless, black designers have found the importance in taking up the phrase with pride, working through their clothing and their runway shows to reference the influences that black people have had on culture, and even to critique racial injustice.
Charles Harbison is a designer whose work has made headlines time and time again, gaining much fanfare after Beyoncé and Solange Knowles donned his looks. For the exhibit, he has donated a mosaic colorblocked overcoat from S/S 2015, which he says was inspired by "zen gardens, Brice Marden, Erykah Badu and Nica Rothschild."
He has no qualms with being identified as a black designer. "I embrace it," Harbison said in an interview. "In that all the references and cultural ideologies I hold dear get to be reflected in my work. That's such a privilege. I don't find it stifling."
Kerby Jean-Raymond is the founder of Pyer Moss, a brand that has made headlines for the past few seasons as its runway shows and collections have referenced societal issues, such as police brutality, mental health and greed. After his Pyer Moss A/W 2016 show, Jean-Raymond spoke to Mic, saying that if he's going to be the black designer, he's going to tell the story his way.
"I was just being true to myself and ready to speak on issues that bothered me," Jean-Raymond said in an interview. "Besides being dropped by a store in Europe, the conversations helped the brand in many ways. Most importantly it gave me a means of release."
Pyer Moss has donated two looks for the exhibition. One is from his A/W 2015 show that was a homage to Carl Jones and his streetwear brand Cross Colours (which is also included in the exhibit). The second look, a leather jacket hand painted by Gregory Siff, is from Pyer Moss' "Ota Benga" collection. For that runway show, Jean-Raymond showed a video that included footage of the many black people who have suffered at the hands of police brutality. (Ota Benga was a Congolese man who was put on display at the Bronx Zoo in 1906.)
"It was inspired by the case of Mike Brown, Eric Garner and Trayvon Martin among others who I felt whose bodies were put on display like Ota Benga during one of the most racially tense periods of our generation," he said.
There is much to be said about the rich legacies of black fashion designers whose names have gone unknown but whose influences are referenced time and time again. Black Fashion Designers is only an addendum to the push for more representation and inclusion not only in museum exhibitions, but most importantly across the industry and across history.