A senior adviser on the Trump campaign just said, "It will take a miracle for us to win."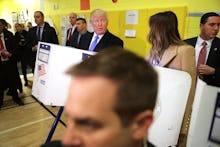 Confidence in Republican Donald Trump's camp is shaky, if the words of an anonymous senior adviser to the campaign are anything to go by: "It will take a miracle for us to win."
As polls begin to close, ballots begin to be counted and pundits have started issuing projections Tuesday night, Trump was ostensibly doing significantly better around the time the statement was issued, with 24 electoral votes to Democrat Hillary Clinton's 3 electoral votes in New Hampshire.
However, the states projected for Trump at that time — Indiana, Kentucky and West Virginia — are traditionally red states, making the numbers misleading, a fact not lost on the aforementioned Trump campaign senior adviser.
Record voter turnout across the country has left Democratic nominee Hillary Clinton's campaign optimistic. Vote counting in Florida, a crucial key swing state worth 29 electoral votes, is ongoing and has vacillated between Trump and Clinton — it remains too soon to declare.