California just successfully voted to legalize recreational marijuana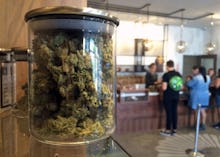 California voted on Election Day to approve Proposition 64, making the state the fifth in the United States to legalize the use of recreational marijuana, the Los Angeles Times reported.
Early polls had predicted an easy passage for the ballot measure, which will allow Californians ages 21 and over to legally purchase and transport up to 28.5 grams of recreational marijuana.
The vote will also move California into a position to become the biggest marketplace for cannabis products in the United States, with the potential to surpass even Colorado's thriving marijuana economy, according to the Times.
Nate Bradley, executive director of the California Cannabis Industry Association, told the paper that the vote's passage was an important milestone in the fight to legalize marijuana broadly across the U.S.
"Proposition 64 will allow California to take its rightful place as the center of cannabis innovation, research and development," he said.
The new law will go into effect by Wednesday morning, less than 24 hours after its passage, the Times reports.
When it comes to marijuana, California already skews progressive; the plant has been legal for medicinal use in the state for more than 20 years.