NYC Santacon route and bars 2016: Here's everything to know for Saturday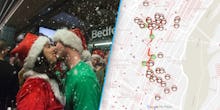 Ah, SantaCon, the time-honored tradition that wreaks havoc on New York City streets once a year. For some, the throngs of Santa impersonators are a joyful, boozy celebration. For others, the sloppy revelry is a special hell on Earth that rudely interrupts their weekend brunch plans. 
This Saturday, drunken amateur Santas will flock to Manhattan streets to drink and be merry. Whether you want to join their shenanigans or avoid them like the plague, here's everything you need to know about December's most notorious made-up holiday. For even more information, head to the official SantaCon NYC 2016 Google Map. 
NYC SantaCon Route
The meeting place: 
Santa-wannabes will gather at the Flatiron pedestrian plaza from 10 a.m. to 11 a.m. 
Club hang-outs: Chose from 7 clubs. 
Gramercy: Ainsworth Park, 230 Fifth Ave. Rooftop Bar
East Village: Solas, Bar 13, Webster Hall
Midtown: Slake, Madison Square Tavern
Bar hang-outs: Chose from over 40 bars. 
Gramercy: Plug Uglies, Sidebar, Finnerty's, Little Town NYC, Dukes 5
East Village: Royale 157, Central Bar, Village Pourhouse, Amsterdam Billards, The Continental, Bull McCabes, Professor Thom's, Coyote Ugly, Crocodile Lounge, Phoenix Bar, Pinks, Doc Holliday's, The Thirsty Scholar, Double Down Saloon 14, Shades of Green, 7B, 
Midtown: Public House NYC, Blarney Rock, The Liberty, Karaoke City, Seven Bistro, O'Reilly's Pub, Dillons on 40th, American Whiskey, Nelly Spillane's, Legends, Jack Demsey's, Habanero Blues, Reichenbach Beer Hall, Beer Authority, Suite 36, Tempest Bar, Stout, Feile, Slattery's, Mustang Harry's, 5th and Mad, The Keg Room NYC, Foley's, Playwright Irish Pub, The Australian, Rick's Cabaret, Vivid Cabaret 28
SantaCon 2016 Map
Here's an overview of where SantaCon is going down this Saturday. For more detailed information, view the official Google Map here. 
How to buy SantaCon tickets
You don't need to do anything to join SantaCon, but the organizers urge participants to donate $10 that will go to NYC-area charities. Do it through PayPay online, or you can give cash at the starting point on Saturday.