Black Friday Shopping Tips and Tricks: How to get the best deals and discounts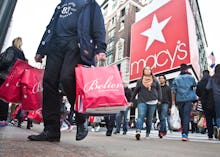 Are you ready for Black Friday and Cyber Monday? The post-Thanksgiving retail holidays are almost here and they can be hellish for unprepared shoppers looking to score big discounts online or at the register.  
This year Mic teamed up with Phil Dengler, co-owner of online deals website BestBlackFriday.com, to share some tips and tricks that will ensure you get the best bang for your buck. Here's a list of everything shoppers should do and should avoid at all costs.
1. Get organized
On Black Friday, time is usually the only thing that stands in the way of you going home empty-handed or with a car full of discounted goods. Shoppers will need to be quick and efficient, which is why it's important to get organized ahead of the big day. 
Finding an online guide or deals website, like ours, to help keep track of products, ads and store information will be invaluable, according to Dengler. "While all of this information will eventually be available on store websites, it is much more convenient [to have] it in one place with strong sorting options," Dengler said. 
2. Download apps for all your favorite stores 
"We highly recommend downloading them for your favorite stores. Amazon offered 150 'app-only deals' last year on Black Friday, and many other retailers send breaking news and sneak peaks to their app users," Dengler said. 
3. Avoid stores with less-than-stellar Black Friday sales
There aren't many retailers that offer up paltry deals or that choose to forgo the sales holiday altogether, but they do exist. For instance, Apple usually avoids rolling out Black Friday deals. 
Dengler suggests fans looking for Apple devices seek out alternative retailers that are more likely to stock the same goods, but at lower price points. "While shoppers love the Apple Store, it is not a great place to shop on Black Friday. Last year, they did not even have a Black Friday sale," Dengler said.
This year, for instance, Walmart's Black Friday ad — initially leaked by Bfads.net — shows the company  is offering the iPad mini 2 with 32GB for $199 and $0 down on any Apple smartphone purchased alongside a qualifying phone plan from AT&T Next, Sprint or Verizon.  Check out our Black Friday deals page to see more discounted items. 
4. Don't pay for shipping charges 
If there was ever a time to just say "no" to shipping fees this is it. Most major retailers will offer complementary shipping and returns in order to lure more shoppers during the holidays. Paying for shipping is a big no-no, according to Dengler. Shipping fees take money out of your pocket that could be better spent on securing big-ticket sale items.
This year's crop of businesses offering complementary shipping on select orders include Walmart, Sears and Target making it pretty easy to get almost any product you want shipped and delivered to your front door at no extra cost. 
5. Avoid buying perishables and winter clothes on Black Friday
If you are in desperate need of a heavy sweater or winter coat, it's best to wait until the end of the holiday season. That's when stores will offload their leftover items at bargain-basement rates. 
Not surprisingly, Christmas decorations and other holiday related trimmings are also considered a bad purchase. Customers will be able to snag better deals in January when stores are more motivated to get rid of their festive inventory. If you can wait until January to purchase any seasonal goods, you should. Your wallet will end up thanking you for it. 
Shoppers looking for some relief in the form of a vacation or long getaway are also better off holding out until later in the year. The best vacation deals often make their debut in the months between January and March during what insiders call the "Wave Season." Perishable goods, like flowers and food, also get two thumbs down since they divert your attention from taking advantage of steep discounts for in-demand products, like TVs, gaming consoles and phones.
6. Don't rule out pre-Black Friday sales
Last but not least: Don't ignore pre-Black Friday sales. These types of deals are often overlooked, but still deserve your attention. For shoppers willing to do the necessary homework, there are great sales opportunities that, in some cases, can even rival popular Black Friday deals. 
For instance, this year Sam's Club will drastically cut prices for some of its in-demand electronics ahead of Black Friday. Popular items include a Samsung 230-watt giga sound system with Bluetooth for $99.88, and Samsung 4K Ultra HD Blue-ray player for $189.88. To see more deals from Sam's Club and other retailers check out our Black Friday deals page now.
Mic Essentials brings you handpicked deals, reviews, recommendations and gift ideas. If you buy something through a link on this page, Mic may earn a small commission.