Stock markets crashed to their floor as Donald Trump began to win: What that means for you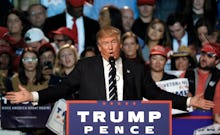 As the world watched Republican nominee Donald Trump's victory unfold in the presidential election, global markets began to tank. 
Though the New York Stock Exchange and Nasdaq National Market closed at 4 p.m. Eastern — and will not reopen until 9:30 a.m. Wednesday — futures (which can trade outside normal hours) fell overnight.
Dow futures plummeted by more than 800 points as Trump's path to victory looked increasingly likely.
Both S&P and Nasdaq futures fell so far that they hit their maximum limit, triggering a brief halt on trading until morning — however, trading was later resumed with limitations.
The last time stock futures declined so precipitously overnight was after the Brexit vote in June.
The Japanese Nikkei 225 Index also dropped by more than 5% — and the Mexican peso also took a dive.
Why did this happen?
Many economic predictions for the United States under a Trump presidency have been grim, and one advisory firm told Yahoo Finance that his win could cause the S&P 500's market value to drop by 7% — tantamount to over a $1 trillion loss of wealth.
An open letter in the Wall Street Journal published Nov. 1 — signed by 370 economists, eight of whom are Nobel laureates — warned that a Trump economic plan could have devastating consequences, describing him as "a dangerous, destructive choice for the country."
While markets and economists alike have shown extreme bearishness about a Trump presidency, there is a possible silver lining: Unexpected "black swan" events like Brexit frequently reveal markets' tendencies to overreact.
In fact, some financial experts suggest that a market overreaction on Nov. 9 — assuming stocks take a huge dive — could represent a buying opportunity if you have extra money to invest (aka, money you do not need to pay off debts or keep in your emergency fund). 
"If someone has excess cash sitting on the sidelines that they had wanted to put to work in the markets all along," New York-based certified financial planner Roger Ma said in an email to Mic, "then tomorrow could be an opportunity to take advantage of stocks being 'on sale.'" 
Ma points out that — while the S&P is at about 2,139 as of Tuesday night— that's still not as low as the February 2016 lows in the 1,800s.
Unfortunately, taking advantage would probably require buying stocks in a brokerage account, because deposits into your 401(k) are slower. Making a payroll deduction change for an increased 401(k) contribution takes some time, Ma said: often one or two pay periods.
"By the time the change takes effect, the markets may have already recovered to pre-election levels," he cautioned.
Personal investment opportunities aside, a Trump presidency means many things for many Americans' money.
You could face new tax brackets among many other financial changes; after all, protectionist trade policies affect prices and immigration reform comes with costs.
And then there's the question of how the next president will manage the U.S. health care and student debt crises.
On these fronts, it's less clear how much any reaction can be characterized as an overreaction.
Nov. 9, 2016, 2:53 a.m. Eastern: This story has been updated.