5 silver linings progressives can look to as the country turns red on Election Day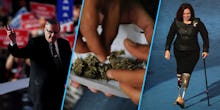 As the final votes trickled in on the Wednesday morning after Election Day, a Trump presidency seemed increasingly certain.
But for progressives experiencing acute anxiety at the thought of the most transparently populist candidate in American history assuming the White House, there were still some small but sure silver linings to cling to.
Rep. Tammy Duckworth won her Illinois Senate seat
The Democrat unseated her Republican rival, Mark Kirk, who seemingly sought to disrespect her heritage during a debate in Illinois just days before the election.
"I'm a daughter of the American Revolution," Duckworth, a United States veteran, told the assembled crowd. "I've bled for this nation."
"I had forgotten that your parents came all the way from Thailand to serve George Washington," Kirk responded.
Recreational marijuana won in California and Massachusetts 
Massachusetts, California and Nevada all passed measures to allow recreational marijuana use, and Florida, North Dakota and Arkansas all approved medical marijuana measures, according to the Washington Post.
Arizona voted Joe Arpaio out
Sheriff Joe Arpaio, the Arizona Republican and illegal immigration opponent who was caught forcing jail inmates to wear pink underwear, lost his bid for a seventh term to Democrat Paul Penzone, according to Fox News.
The first Latina woman won a U.S. Senate seat
Nevada's Catherine Cortez Masto, a Democrat, won her election, making her the first Latina woman elected to the U.S. Senate in the the institution's history.
Cortez Masto will replace the outgoing Senate Minority Leader, Harry Reid. 
Delaware elected its first African-American Congresswoman
Lisa Blunt Rochester became Delaware's first elected African-American female Congresswoman, defeating her Republican contender, Hans Reigle, ABC News reported.
Rochester, a political newcomer, vowed to make jobs, the economy and equal pay for equal work key focuses of her Congressional agenda.