'Top Chef' made black and white chefs compete on an old slave plantation — guess who won?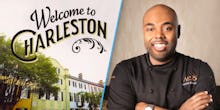 Bravo's Top Chef is in some hot water. 
On Dec. 1, the celebrated food competition show aired the first episode of its 14th season, but viewers were not pleased. The show was partly set at Boone Hall Plantation, a historic 17th-century slave plantation in Charleston, South Carolina. It's one of America's oldest working plantations, and it still has nine slave cabins and exhibitions that are open to the public.  Notably, the plantation was the setting for one of the most romantic movies of all time — several scenes of The Notebook were filmed at Boone Hall Plantation. 
People on Twitter slammed Top Chef for hosting an episode at a former slave plantation. 
Others criticized the show for sending a black man home in the final scene. Gerald Sombright, a black chef who prepared roasted oysters with Thai-style mignonette and tomato compote, lost to a white chef named John Tesar, who prepared cream-poached oysters with truffle butter, hot sauce and shaved truffles, Eater reported. Several found the episode and its conclusion to be racist. 
With big, beautiful houses and stunning landscapes, plantations have recently surged as popular wedding backdrops, Salon noted, condemning the trend by noting that romanticizing these historical spaces "engenders a dangerous and selective nostalgia, which omits the monstrosities of rape, abuse and dehumanization of African-Americans and replaces them with the commercial gloss of a big white wedding." Case in point: Blake Lively and Ryan Reynolds' marriage at Boone Hall Plantation. 
Tom Colicchio, a Top Chef judge and renowned chef and food activist, made the argument that featuring the the plantation was a way to remember our nation's history and "how heartless some people can be." Colicchio defended the show's location choice in a tweet posted Dec. 5, and on Dec. 7 said he expected some backlash. 
Some on Twitter praised Top Chef for featuring the plantation, noting that the revenue the plantation gets from films helps it stay in business and keeps it from getting torn down and forgotten. 
There was a candid conversation about race during the show, but a few minutes of lip service seems to be a blasé way to go about acknowledging the history of Boone Plantation. When the majority of the show features the plantation as an aesthetically pleasing, picturesque farmland and does not dedicate adequate screen time to showing how it used to be a place that capitalized on dehumanized slaves, the show becomes problematic.  
Colicchio's advice to angry viewers has been a refrain of "keep watching" to see how Top Chef addresses the issue in the remaining episodes. But his tweet comparing Boone Plantation to Auschwitz (see below) is the most damning — it's doubtful any food show would dare film at Auschwitz. 
Using Boone Plantation as a pretty backdrop for a reality show seems, well, just a little tasteless. 
Bravo did not respond to Mic's request for comment.