Hillary Clinton concedes to Trump: "This is painful, and it will be for a long time."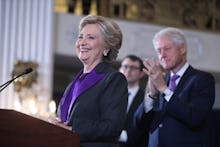 In a speech almost no one thought she'd have to give, Hillary Clinton conceded to Donald Trump Wednesday morning after a loss that is already sending shockwaves through not only the country but the entire world.
"This is painful, and it will be for a long time, but I want you to remember that our campaign was never about one person or even one election. It was about the country we love and about building an America that's hopeful, inclusive and big hearted," Clinton said at the New Yorker Hotel in Manhattan.
Clad in bipartisan purple, Clinton implored young people — and young women especially — to "never stop believing that fighting for what's right is worth it."
"To all the women, and especially the young women who put their faith in this campaign and in me, I want you to know that nothing has made me prouder than to be your champion," Clinton said.
Her speech — gracious in tone and remarkable in her ability to keep her composure — came the morning after her stunning defeat. In the wee hours of Wednesday morning, Clinton's campaign chairman traveled to what was supposed to be her victory party at the Jacob K. Javits Convention Center in New York to tell stunned and dejected supporters that Clinton would not be addressing them just yet.
Clinton supporters were not prepared for her defeat.
Polling had Clinton ahead. Trump's campaign was said to have little to no ground game. President Barack Obama was as popular as he's been since he was re-elected in 2012 — a positive sign that voters would want to continue his legacy with a Democratic successor.
In a sign of strength, Clinton ended her campaign with a mostly positive tone, appealing to America's "better angels" at massive rallies in Pennsylvania and North Carolina — which polling showed were either firmly or nearly within her grasp.
She even had the president and first lady Michelle Obama rallying the Democratic troops, galvanizing them against some of the vulgar things Trump has said and done — including bragging about grabbing women "by the pussy."
But it wasn't enough.
In the end, Clinton's sustained a defeat on a remarkable scale.
She lost states Obama won twice, including Florida, Ohio and Iowa.
And she lost states that hadn't gone Republican in decades, including Wisconsin and Pennsylvania.
As the reality of her loss set in, financial markets began to tank.
Americans searching how to move to Canada crashed that country's immigration website.
But her loss was taken hardest by many women, who were elated about the possibility of the first woman president.
Throughout the day, Americans made pilgrimages to Susan B. Anthony's gravesite, placing their "I voted" stickers on her tombstone. Anthony helped women earn the right to vote nearly 100 years ago.
Clinton spoke to that message at the end of her remarks.
"I know we have still not shattered that highest and hardest glass ceiling, but someday someone will — and hopefully sooner than we might think right now," Clinton said. "And to all the little girls who are watching this: Never doubt that you are valuable and powerful and deserving of every chance and opportunity in the world to pursue and achieve your own dreams."