Marijuana Legalization 2016: These states just made weed legal for everyone 21 and over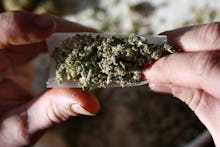 Tuesday was a monumental day in American politics. In addition to voting in the presidential election, U.S. voters went to the polls to decide on a number of statewide issues, including marijuana legalization. 
Here are the states that just legalized recreational marijuana for people above the age of 21.
California
Residents of California voted on Tuesday to pass Proposition 64, which legalizes the recreational use of marijuana for adults over the age of 21. The change means that California could soon be home to a booming marijuana industry similar to, or even bigger than, Colorado's. The measure legalizes the purchase and transport of up to 28.5 grams of marijuana to be used recreationally.
Massachusetts 
Voters in the Bay State approved Question 4 on Tuesday, legalizing recreational marijuana in Massachusetts — despite some laughable attempts from anti-marijuana advocates to scare voters into voting against the measure. According to the New York Times, Question 4 will allow for the creation of a regulatory commission that will regulate recreational marijuana "in a manner similar to alcoholic beverages."
Nevada
Nevada also approved recreational marijuana on Election Day, becoming the third state to pass a law legalizing recreational marijuana, the Guardian reported, and "making the west an even stronger region for marijuana sales."
Maine
According to local outlet WGME, voters in Maine approved Question 1 by a slim margin, legalizing recreational marijuana use in the state. The Bangor Daily News reported that the vote was called at about 3 a.m. on Wednesday, but the victory was by a narrow-enough margin that opponents may seek a recount to challenge the results. 
Nov. 10, 2015, 3:38 p.m.: This story has been updated