Hillary Clinton will not speak on Election Night as Donald Trump is poised for win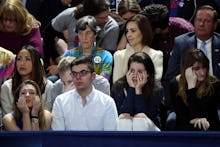 Hillary Clinton's campaign chairman John Podesta appeared onstage at the Javits Center in the wee hours of Election Night to announce that the Democratic candidate would not appear to address the assembled crowd.
Speaking on live television, Podesta recommended that supporters head home, and that the campaign would have more information in the morning.
"We're not going to have anything more to say tonight. ... Everyone should head home," he said.
This story is breaking and will be updated.